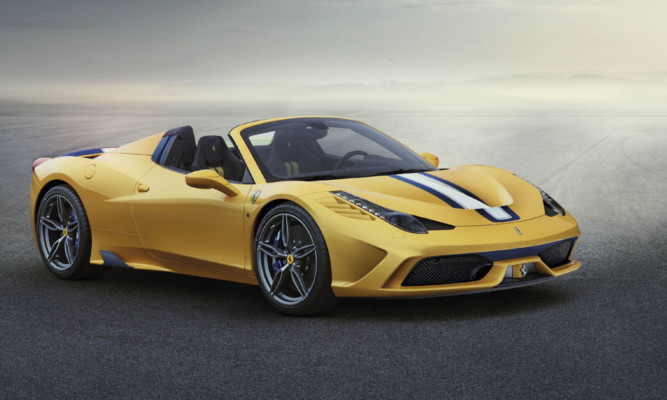 There's a lot going on at the Paris Motor show, but this will be grabbing its share of the headlines. It's the Ferrari 458 Speciale A the A stands for Aperta, which is Italian for open.
So it is, as you might have guessed, an open top version of the 458 Speciale.
It follows the same, simple recipe as the Scuderia 16M it effectively supersedes, taking the Speciale coupe which many have hailed as the best supercar of the past 10 years and lopping off its roof.
Unlike the 16M, though, it doesn't have a fabric roof, instead employing the same folding hard-top setup as the regular 458 Spider, which adds just 50kg to the coupe's kerbweight. Thus, the Speciale A tips the scales at 1445kg.
That extra weight doesn't dent performance, however. Not a bit of it. The Speciale A is incredibly fast. It gets from 0-62mph in the same blistering 3.0 seconds as its hard top counterpart. It also laps the Fiorano race track beside Ferrari's HQ in an identical time to the coupe.
Underneath the skin you won't find any turbochargers or superchargers. No sir. There's just a good old-fashioned V8 power unit.
It's no ordinary engine, though. It's the most powerful naturally-aspirated roadgoing V8 Ferrari has ever produced, developing 597bhp at 6,000rpm.
Complimenting this quite incredible engine is a seven-speed twin-clutch gearbox that allows the driver to change gears using steering-wheel mounted paddles or just let the car's clever computer take the strain.
The aluminium roof takes just 14 seconds to fold away out of sight.
Prices haven't yet been released for the Speciale A but given the coupe costs around £210,000 and convertibles usually carry a £20,000 or so premium at this level, expect the price tag to be somewhere around the £230,000 mark.