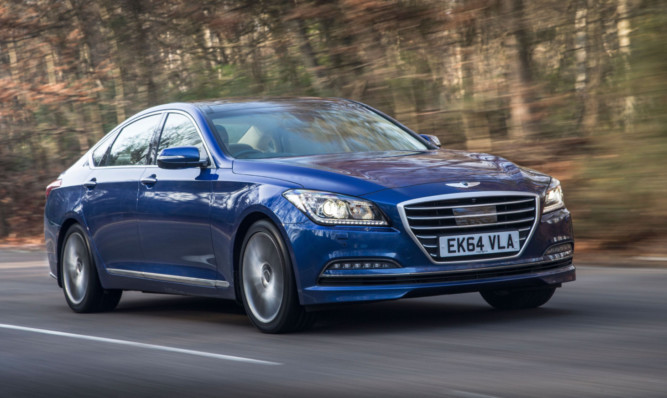 Are you lucky enough to have almost £50,000 to spend on a new car?
If so, you have a lot of good choices.
You could go for a Land Rover Discovery or Range Rover Evoque. Or a fully loaded Audi A6, BMW 5 Series or Mercedes E-Class.
Perhaps sir or madame would like a Jaguar XF?
Or, if you really fancy rowing the boat out, why not consider a Hyundai?
That's right. A Hyundai.
The South Korean manufacturer was famous for knocking out cheap and cheerful runabouts but these days produces excellent mid-range hatchbacks that rival the best Ford or Skoda can offer.
Now they're having a pop at the executive saloon territory occupied by BMW, Audi and Mercedes.
The Genesis is a five-door luxury saloon that carries a £47,995 price tag.
That outlay bags you a 3.8 litre V6 petrol engine that sends 311bhp to the rear wheels.
It'll do 0-62mph in a speedy 6.8 seconds, although average fuel economy of 24mpg means it's not going to win any environmental awards.
It's lavishly equipped. There's an eight inch touchscreen, fine grain leather seats, automatic emergency braking, cameras and sensors on all four sides of the car, xenon headlamps, and a boot that opens automatically if you stand next to it with the keys in your pocket.
There's also what Hyundai says is the world's first in-car CO2 cabin sensor to make sure air quality remains high and the driver doesn't get drowsy.
The South Koreans are smart enough to realise that even with all its bells and whistles the Genesis isn't going to have Mercedes drivers rushing to Hyundai dealerships.
They have set sales targets very low and the Genesis will be available from just a handful of Hyundai outlets in the UK Macklin in Edinburgh is the only Scottish one.