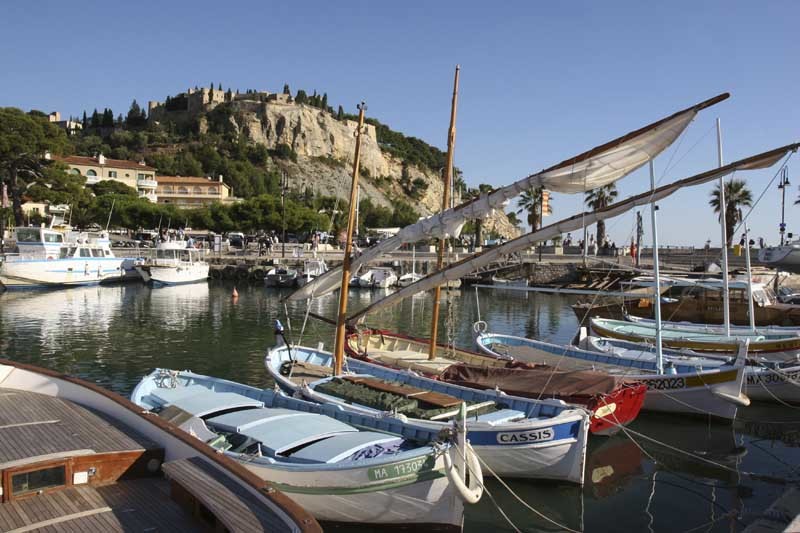 Twenty years after Peter Mayle's A Year in Provence attracted hordes of tourists and expats to the region, Nora McElhone finds the Mediterranean city of Marseille is the perfect base for exploring this stunning area.
Surrounded by mountains and sitting on a natural harbour that was colonised by the Greeks in 600BC, the bustling port of Marseille stills forms a meeting point between Europe and Africa with enormous ferries arriving from Tunisia, Algeria and Corsica daily.
Waves of immigration over the centuries have resulted in a melting pot of cultures. Today, over a third of the population can trace its roots back to Italy, while Corsica, Armenia, North Africa and China and Vietnam all have significant communities in Marseille.
Wandering round one of the city's bustling markets, you could be forgiven for not knowing quite where in the world you are. On a day when France were playing Ireland at football, there were more Algerian scarves and flags in evidence than French, as the north African immigrant population geared up for their country's clash with Egypt.
This is Marseille — France, but a little bit different.
With a history spanning Greek and Roman rule, eventual incorporation into France in the 15th century and a reputation for revolt against central government, Marseille has some wonderful stories to tell. There are the forts constructed by the French kings Francis I and Louis XIV that tell of a need to keep an eye on the natives and a Roman docks museum that has been constructed on the site where the docks were built in the first century AD.
The basilica of Notre Dame de la Garde is perched high on a hill and offers fabulous views over the city, which make the steep climb to the top worth the effort. The building dates back as far as the 13th century and was heavily fortified by Francis 1 in the early 16th century. The basilica and the stunning 10m-high gold-plated statue of the Virgin and child can be seen for miles around.
A great place to stop for lunch or just sit over a coffee to watch the world go by is the bohemian Cours Julien, a square with ponds and a fountains surrounded by restaurants and shops, with a real buzz about it. While we enjoyed a great value lunch — with a small carafe of wine included in the price — how civilised! — sitting outdoors on a sunny November day, a second-hand book market attracted browsing gendarmes and a few buskers of varying degrees of talent kept us entertained.
Marseille gets a direct hit from the Mistral wind that brings cold air down from the Alps and we did have a couple of chilly days during our week's visit but, even in early November, the climate meant that some days were mild enough to sit in a pavement cafe and enjoy the heat of the sun as you watched the world go by.Idyllic covesWe spent one of the sunny afternoons exploring the beautiful Calanques on a boat trip. These are deep, narrow inlets of the sea which form idyllic little coves in the white limestone rock, a bit like mini fjords. Two ferry lines operate trips along the coast towards Cassis, leaving from the Vieux Port.
Our boat was busy, but there was still room on one of the seats for a dog wearing a fleece — well, this is France, where the locals take the notion of dog-lover up another level.
The commentary on the boat gave an insight into the tiny communities based at the end of each of the Calanques, telling us about how inaccessible the houses were and how, in most cases, there isn't even any mains electricity. In true French style, though, at the end of each description, the captain was able to reassure us that, "despite everything, they have a restaurant!"
We sailed past rock-climbers testing their skills on the sheer cliff faces and vowed to come back in summer when a day spent in the warm, crystal clear waters of the Calanques would be little short of paradise.
If you want to look beyond the city itself, Marseille is perfectly placed for exploring some of France's most famous sights, from Arles, where Van Gogh painted his Yellow House, to the pretty fishing port of Cassis, home of the blackcurrant liqueur and some world-renowned white and rose wines, or Avignon, with its unfinished bridge.
We took a day trip to Aix-en-Provence, which couldn't be more different from the cool, slightly edgy Marseille. Aix, which is an attractive university town with an amazingly well-heeled student population, feels slightly soulless compared to its larger neighbour, with plenty of potential for window shopping in designer boutiques but none of the character of Marseille.Gorgeous winding streetsWe fared better as we drove further into rural Provence and the beautiful Luberon valley area in particular. This region is dotted with stunning ancient villages perched on the hillsides. We stopped in Menerbes, which was the village where Peter Mayle chose to set up home in the late 1980s and it is easy to see why. The gorgeous winding streets, miniature 16th century fortress and cemetery and Chateau du Castellet can be overrun with tourist in high summer but were almost deserted when we explored them on a winter afternoon. The nearby Corkscrew Museum and winery are apparently also worth a visit.
We spent a week in Marseille and hardly scratched the surface of what the area has to offer. You could travel east along the beautiful Cote d'Azur to explore the glamorous resorts of Cannes and Nice or inland for a tour of the world-famous wineries of Chateauneuf-du-Pape, or go in summer and bask in the sunshine and enjoy the fields of lavender and sunflowers that have inspired generations of artists.
The Marseillais are fiercely proud of their city and of local specialities such as the famous fish soup Bouillabaisse and alouettes sans tetes, which used to be a poor man's dish of stuffed larks (without their heads) but now consists of parcels of beef. The diverse population means that there is no shortage of great restaurants in town, including those serving traditional North African, Vietnamese and even Japanese cuisine.
To find out more about travelling to and staying in the Marseille area, log on to the local tourist board's website: www.marseille-tourisme.com/en/in-marseille/