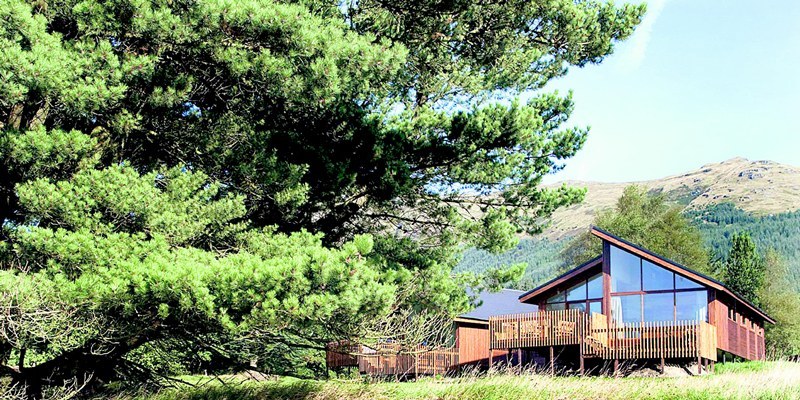 Time spent in a log cabin in the heart of Argyll allows plenty of time for nature gazing, relaxation and walking, as Lisa Trainer found out.
As a self-confessed nature geek minus the encyclopaedic knowledge of David Attenborough to lend any credibility to my condition it was with a glad heart that I travelled to Argyll for a long weekend away.
Ospreys, pine martens, oystercatchers, bats and otters to swallows, buzzards, red squirrels and golden eagles it's a dream come true for those interested in animals and birdlife.
Forest Holidays' birch log cabin situated beside Loch Long offered stunning views of the rugged peaks of Argyll Forest and across the water that weaves its way to the Clyde Estuary.
The well-equipped and very spacious 'golden' cabins cater for couples, families or groups of friends and offer beds for between four and six people right beside the loch.
During the summer otters can be seen lazing and playing in the loch, while red and roe deer often rub their antlers along the trees lining the water's edge.
There's a lot to learn about nature in the area and much can be discovered just by going for a walk.
Oystercatchers protect their eggs at all costs, as we discovered when one such bird swopped at us interpreting our close proximity as a danger to their unhatched young as we walked past.
They swoop low and pretend to have a broken wing to the perceived predator to divert attention from their nest of eggs.
Observation with an expert guide is the best way to learn about the habitat and species around you and I learned courtesy of Forest Holiday ranger Andy Kerr that bats are the only true flying mammal.
Andy's enthusiasm for nature is clear to see and he says he takes all sorts of people on these walks at all times of year from school children with their teachers, to tourists passing through the area, or locals wishing to learn more about what's on their doorstep.
"We have swallows resident for the summer, and osprey nest at Aberfoyle. We have a camera located on the osprey nest to get updates on the chicks.
"We also have otters at the moment and when the female has her cubs she'll chuck the male out of their holt. You often see the male otters playing about and looking for food such as crabs, muscle shells and fish."
Dusk walks with a ranger are available all year round and can be easily arranged at the reception of Forest Holidays.
Even if you're not an animal or bird lover, there's still plenty to appreciate in this part of the country and from the Forest Holidays camp site the nearby village of Arrochar is just a 2.5-mile walk away.
Here you can find good places to sit down and eat and drink while gazing across the loch and escaping the busy pace of life you left at home.
If you feel up for really testing your fitness levels and gaining an even better view of the Argyll countryside then climb The Cobbler an iconic mountain which is just 100 feet short of being classified a Munro.
Whether you enjoy seeing nature in the flesh, or simply want to relax somewhere beautiful and quiet, you'll enjoy spending time in this pocket of Argyll.
For more information on the accommodation from Forest Holidays, visit www.forestholidays.co.uk or call 0845 130 8223. Events are run throughout the year by the Forestry Commission. Find out more at www.forestry.gov.uk/scotland or call 0845 367 3787.