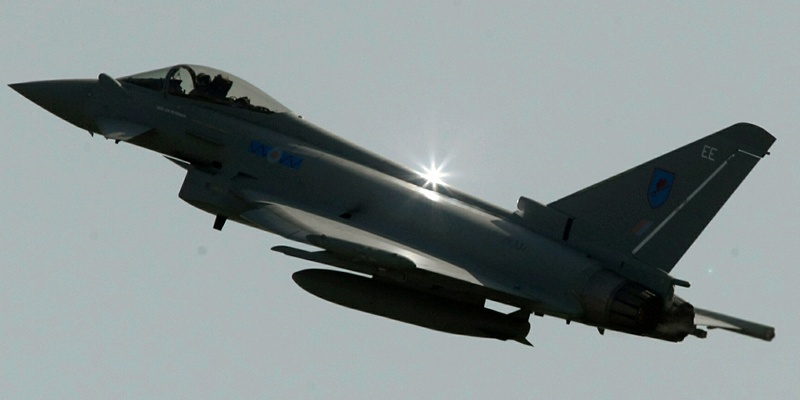 A furious war of words has broken out in North East Fife, after Liberal Democrat candidate Iain Smith was accused of "blatant double standards."
His SNP rival Rod Campbell hit out as the emotive issue of RAF Leuchars' future began to dominate the local campaign trail.
Mr Campbell insisted the Lib Dem candidate had been "less than straight" with voters in a new campaign leaflet.
"The latest Lib Dem leaflet tries to take credit for changes in taxation by reminding voters that the UK Government is a Tory/Lib Dem coalition," Mr Campbell said.
"The changes in question were introduced by George Osborne in his recent Budget and Iain Smith seems happy in this case to be associated with the Conservatives in London.
"However, right next to the article on taxation is one about the threat to RAF Leuchars. It posts Mr Smith as champion of the campaign to save the airbase.
"Nowhere does this article recognise that it is the Lib Dem/Tory coalition that threatens Scottish defence facilities, not least RAF Leuchars.
"When Iain Smith likes the actions of the London coalition, he claims credit for his party.
"When it comes to RAF Leuchars, he pretends that he has nothing to do with Nick Clegg and the actions of the London government.
However, Mr Smith was happy to laugh off the SNP missive. "This is typically laughable bluster from the SNP," he said.
"Yes, thanks to the Liberal Democrats thousands of Fifers will pay no tax from this month and around 180,000 will have a tax cut and, yes, Sir Menzies Campbell MP and Ialong with members of the local community and the RAF Leuchars task forceare campaigning vigorously to save the base.
"I am a campaigner for my community and RAF Leuchars is vital to our social fabric, local economy and defence of the UK.
"The MoD have repeatedly said that no decisions have been made on the future of RAF bases, but that does not stop us from making the case for its retention.
"Sadly, the SNP candidate has yet again undermined the efforts of those fighting hard to save the base."