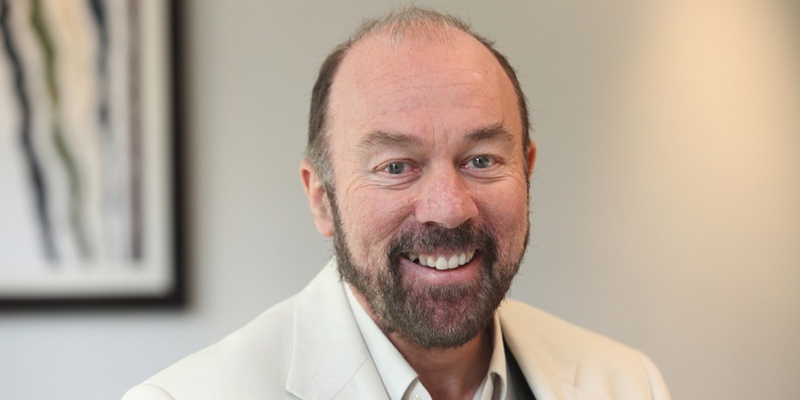 Brian Souter may be one of Scotland's richest men but, as Jack McKeown found out, for a couple of days a year he's just a bus driver.
"All of our head office staff have their bus licences and they all do at least a day each year," he says.
"I do it just the same as everyone else. I vary where I do it sometimes I get recognised, other times I don't. I quite like doing it in Dundee, because there are a couple of routes where we still have a conductor.
"When I was starting out as a bus driver we had conductors, so I quite like that. It means I can just do the driving and not worry about collecting the money."
Would he have gone out during the recent snowy freeze? "Definitely. Never ask someone else to do something you wouldn't do yourself."
This kind of hands-on attitude has helped Brian create the second biggest transport company in the UK.
He and his sister Ann, who co-founded Stagecoach but now takes a backseat role, feature high up the Sunday Times Rich List with a fortune estimated at £770 million, but they started out with just £25,000 from their bus driver father's redundancy cheque.
Taking a risk, Brian who financed his university course by working on the buses gave up his lucrative accounting job. He and Ann bought two second-hand coaches and began doing a Scotland-London run, with Brian driving and Ann making sandwiches and looking after the passengers.
The deregulation of all bus services outside London in the mid-1980s was a catalyst for massive expansion, while rail privatisation in 1995 allowed the company to perform a similar feat with trains. Stagecoach now owns 49% of Virgin Rail and Brian counts Richard Branson as a close friend.Snow's effectThe recent snow was a double-edged sword for Stagecoach. A lot of car drivers decided to place the responsibility for reaching their destinations on to others, but it kept many regulars away.
Brian said, "We got a lot of new customers who were leaving their car at home but the weather kept a lot of older people at home.
"This was the worst weather we've seen since 1963 though and our bus drivers did a great job. We got a lot of good feedback… although you always get the odd letter asking why a bus was 10 minutes late."
Famously unkempt, Brian arrives for his interview with The Courier without his trademark red Kickers, instead combining a tweed jacket with canvas trainers.
He's fresh from a meeting with David Higgins, the new chief executive of rail infrastructure operator Network Rail.
"He seems like a decent guy," he says. "He's the first chief executive ever to work out how many layers of management Network Rail has.
"It turns out they have 12 layers of management. Twelve layers! We have four, and I don't think any company should have more than that. If the government only had four layers of management they'd get a lot more done."American gambleAs befits a man who is only four levels above his company's lowliest employee, Brian is a fan of a streamlined organisation. "We've got 35,000 staff worldwide and only about 40 people in our head office."
In 2003, Brian launched Megabus, the budget intercity coach service that became famous for its low fares, starting at just £1. Three years later, he set up Megabus in the United States. Looking back, he says this was a gamble.
"I thought there was about a 50% chance it was going to work. To make a profit (from existing bus passengers alone) we'd need to take all of Greyhound's customers.
"That wasn't going to happen. The only way we could make it work was if people parked their cars and got the bus instead."
It did work, and Brian thinks its success was helped rather than hindered by the recession.
"This is a big opportunity for our Megabus operation in the US. They're coming out of a deep recession and looking for cheap ways to travel. Our average fare from New York City to Washington is $18. It's the cheapest way you can get there.
"We're doing $100 million a year in America now using a model we pioneered between Dundee and Glasgow."
The last time this writer met Brian was in 2005 when Stagecoach was celebrating its 25th anniversary.
Back then, the furore over his stance against Scotland repealing Section 28 (he funded a postal referendum on it), which banned the promotion of homosexuality in schools, still hadn't completely faded from memory.
This time round, he's visibly more relaxed and open. Even politics, a subject that is traditionally off-limits with him, is not entirely verboten.
Brian donated £500,000 to the SNP's campaign chest ahead of the 2007 election that brought them narrowly to power. Shortly after his donation the SNP dropped their commitment to re-regulate the bus network. The party denies any link between the two events.
Glancing at his wristwatch, which has the Saltire flag on it, I ask if he plans to get involved in this year's Scottish election. He won't say whether he'll be making another donation, but adds with a laugh "though I don't think it's any great secret which party I support."
Brian has a reputation for being generous with his money in 2009 he used his bonus to give all retired Stagecoach employers £100 each, and in 1992, he founded the Souter Charitable Trust with his wife Betty.
It supports aid and welfare projects in the UK and overseas, and to date has handed out more than £20 million in grants.
A devout Christian, Brian and Betty are prominent members of Perth's Trinity Church. Recently he purchased the dilapidated Waverley Hotel, which sits a few paces from his church and currently functions as a hostel for homeless people.
"I've not decided exactly what I'm going to do with it," he says. "But probably we'll keep it doing the same thing it is now."'Cutting edge'A champion of entrepreneurs, Brian thinks the recent financial collapse brings as many opportunities as pitfalls.
He said, "This age of austerity thing we're going through has a lot of implications for us. There's going to be less subsidising of buses and railways, but it's creating a lot more opportunities as well.
"Some things would put me off starting a business in the current climate. There's too much red tape. But you get some really good opportunities in a recession."
He added, "Stagecoach was starting out in a really bad recession in the 1980s."
Even at 56, with his fortune made, Brian still has an infectious enthusiasm for his work, and is at his happiest when talking about plans for the future.
"We've always been at the cutting edge of trying new things. If there's a way of doing regenerative braking for buses, we'll be the first to try it.
"I like to follow my hunches, and these days I use market research to confirm those hunches. I had a hunch that a lot of people were travelling by bus for environmental reasons and market research bore this out."
This is an avenue Stagecoach are pursuing aggressively. "We've done some interesting things with biofuel in Kilmarnock and we're developing buses in Lincoln that run on biomethane that comes out of waste sites."
This, for Brian, is the holy grail of propulsion. "If we can get a bus that runs on waste products, that's the future for us."'I can't read'Given Brian's continued drive and ambition, is television something he'd ever consider? Surely he'd make a fine Dragon, or a replacement for Lord Alan Sugar?
"I'm not interested in doing TV," he smiles. "It's not what I'm about. The Apprentice is great fun and great TV, but it's not really what business is like."
It's a sign of what drives massively successful entrepreneurs that the only time Brian seems at a loss for words is when he's asked what his hobbies are.
There's a long pause. "I like to travel," he eventually comes up with. Where was his last holiday? "Dubai." What does he like to do there? Silence. Is he a reader? "I'm not a reader, I can't read," he jokes. "Does he like walking? "Aye, walking's good. I'm a bit of a walker."
Would he invest in Dubai? This question gets him back on his favourite subject and he brightens up. "No, I don't think there's much money to be made in Dubai now," he begins, enthusiastically breaking down why he doesn't think the desert city is a good investment option.
At 56, it's not too long until Brian gets his own bus pass. Surely he doesn't plan to go on forever?
"Well, no. But life is about enjoying what you're doing. If you're enjoying it and are energised those are the two measures for me. We've got some interesting things in the pipeline, and I haven't run out of ideas.
"Besides, I haven't found the right person to replace me yet."