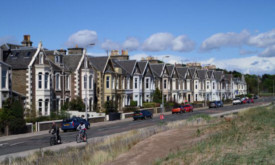 Dundee City Council has lodged a planning application for further work to protect Broughty Ferry's dune system.
Works planned after last winter's sea storms blasted the Ferry's Esplanade have already begun to stop erosion and prevent sand blowing into streets and gardens.
According to a council report, the works will reshape and increase the height of the dunes and will include planting and the formation of access points.
They will be carried out along a half-mile stretch of Broughty Ferry beach that runs alongside the Esplanade.
The works became necessary after fencing deteriorated with age and was no longer fit for purpose.
Broughty Ferry Community Council chairman George Ferguson praised the plan.
He said: "It's a very good thing. It's about time they stopped the sand blowing up on to the street.
"Along that part of the beach the householders have to go out quite regularly and push sand back across the road, so it's a real problem.
"These works will benefit the residents of that area and Broughty Ferry as a whole.
"If the wind is westwards, the castle tends to shelter the beach a little, but a bad wind out of the east will lift the sand right on to the road and up the streets.
"There are some reeds there now, but it doesn't stop the wind too much. These works are very necessary."
The application will be decided at a meeting of the city council tonight.
As a matter of protocol, one of the Ferry councillors, Laurie Bidwell, said he was unable to comment on the details of the plan in advance of the meeting, but had supported similar plans in the past.
He said: "The council has a need to put these works in to hold back the sea and retain the beach, as we experience strong beach erosion.
"In the past we have seen rock hardening put in along there and I think it is important to reinforce the beach and the dunes."
A Dundee City Council spokesman said previous works was carried out on stretches to the east of the current plans to reinforce the dune system between the Glass Pavilion and Broughty Ferry Castle car park.