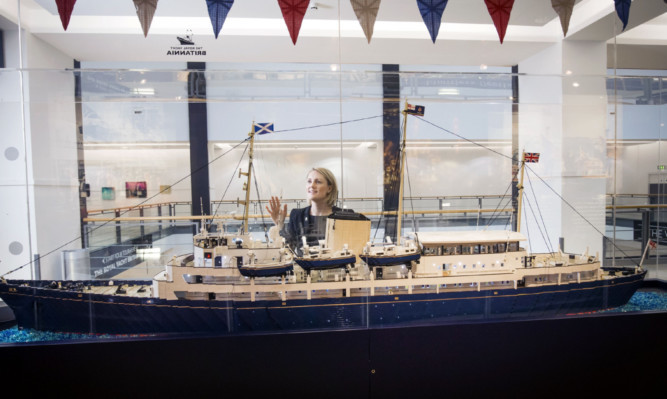 An Angus fisherman has launched a giant 11-foot replica of the Royal Yacht Britannia made from Lego.
The impressive model was created using 40,000 bricks and will go on public display at the attraction's visitor centre at Leith today.
It took Jim McDonough five weeks to construct the Queen's former ship on his dining table in his home near Arbroath.
No glue was used in his creation, meaning everything can be taken apart.
The 1:37 scale model is just one of many the 51-year-old has built, but he admitted he was proud that his first professional commission was the famous ship.
His model includes an onboard Phantom Rolls-Royce in its garage and a white baby grand piano in the royal deck tea room.
He said: "It was an honour to be asked to build the Royal Yacht Britannia, and it's one of the most exciting projects I've ever undertaken and, being able to refer to the original plans, kindly supplied by Britannia, allowed me to produce a perfect replica of Her Majesty's famous ship."
Britannia's chief executive Bob Downie said: "We are thrilled with our Lego Britannia.
"Jim has produced an outstanding replica model of the ship which will be on display during the Queen's 90th birthday year and this unique piece is sure to be a highlight for Lego fans, young and old."
The Royal Yacht Britannia was used by the Queen and her family for more than 40 years.
And Britannia has held the accolade of Scotland's best visitor attraction for 10 years in a row.
The model was built as part of VisitScotland's year of innovation, architecture and design, with visitors able to view Jim's creation from today.Full of big ideas for the little brickshttps://www.youtube.com/embed/KcZA-iNqM0c?rel=0&controls=0&showinfo=0
It's not the first time that Jim has come to public attention for his incredibly detailed and sizeable Lego creations.
In August he welcomed The Courier into his garage to view a flotilla of battleships, aircraft carriers, planes, fishing vessels and landing craft.
Each one had been painstakingly built with the plastic bricks over many hours as he continued a passion for the iconic toy that began in childhood.
The centrepiece of the collection was a 24-foot scale recreation of the USS Missouri, which took three years and hundreds of thousands of bricks to build.
That 1:40 scale vessel was moored alongside a replica of the ill-fated USS Arizona, sunk at Pearl Harbor, and a Japanese carrier ready to deploy lines of "Zero" fighters.
Jim said he has loved Lego since the age of four and has continued buying the bricks ever since and revealed that he would soon need a bigger house and garage to store his collection.