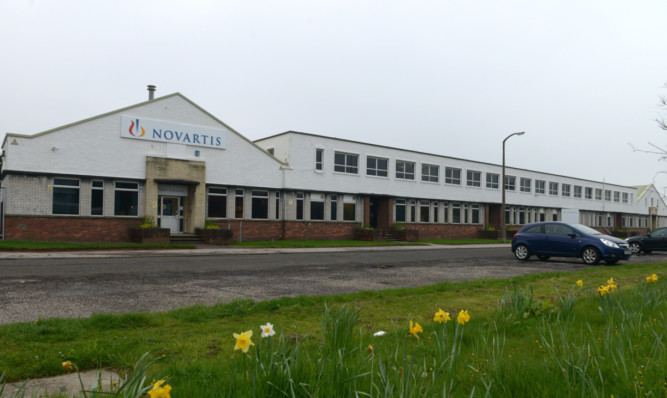 A Dundee animal health vaccines factory will close with the loss of up to 160 jobs if a buyer for the facility cannot be found.
Workers at Elanco's plant at Dunsinane Industrial Estate were left shocked after being informed at a lunchtime meeting on Wednesday that the site was being placed on the market.
The future of 130 employees directly involved in vaccine manufacture will be determined once the outcome of the sale process is clear.
Staff were told that a formal redundancy consultation process would be held within weeks in relation to 30 global support roles at the site.
A spokesman for US head-quartered Elanco stressed it is not inevitable those jobs will be made redundant and said alternate options for workers would be explored.
But Elanco, a subsidiary of global pharma giant Eli Lilly, does not have a similar operation in Scotland where workers could easily be redeployed.
A plant in Sligo, Ireland, is also closing following the company's "in-depth evaluation" of its global manufacturing base. Elanco said moves to offload the Dundee facility were a "business decision" as it looked to maintain a competitive advantage in the "continually changing" animal health sector.
It said the decision was "in no way a reflection of site performance at Dundee."
In a statement, the firm said: "Over the coming months, one of our top priorities will be to seek a buyer for ongoing manufacturing operations at the site. The site will operate as normal during this time continuing to deliver a safe, high-quality, reliable supply to customers.
"If efforts to find a suitable buyer are unsuccessful, we will commence the transfer of product supply to other manufacturing sites, leading to a site closure. If this were to occur, the company anticipates the transition of production would take approximately two years to complete."
Elanco said it understood the announcement would cause concern among its staff and promised to keep them abreast of developments in the coming months.
The Dundee site has only been operated by Elanco for the past 12 months. It was acquired by the Indiana-based concern following a complex multi-billion pharmaceutical industry deal that also involved GSK and previous site operator Novartis.Comment: Another grim blowAnd so the exodus continues, writes Graham Huband.
The news that Elanco is to sell or close its Dundee animal vaccines plant is yet another grim blow for the local economy.
It comes little over a fortnight after Flint Group confirmed the likely closure of its transfer media site on Old Glamis Road, just a mile east from Elanco's Dunsinane base.
A mile west is Johnson Matthey, the high-end battery manufacturer that also recently rubber-stamped itsdecision to quit the city.
Take those three examples together and you are talking about more than 320 skilled local workers whose lives have been turned upside down in the first weeks of 2016.
That is 320 individuals facing an uncertain future. In addition, there is the unseen strain placed on partners, spouses and their extended families when the rug is pulled out from under a loved one's feet.
Hopefully at least a proportion of the jobs I have mentioned will be saved.
But if they are not, Elanco, Flint and Johnson Matthey must do the right thing by their staff.
For the avoidance of doubt what I mean by that is they must provide generous financial packages to redundant workers, not just the minimum that can be got away with under the law.
It is worth remembering that Elanco, Flint and Johnson Matthey are not small local concerns that have simply come to a natural end.
They are all multinational corporates that are making calculated decisions to restructure their business in the pursuit of an improved return.
The least the staff deserve is to be treated properly in the months ahead.