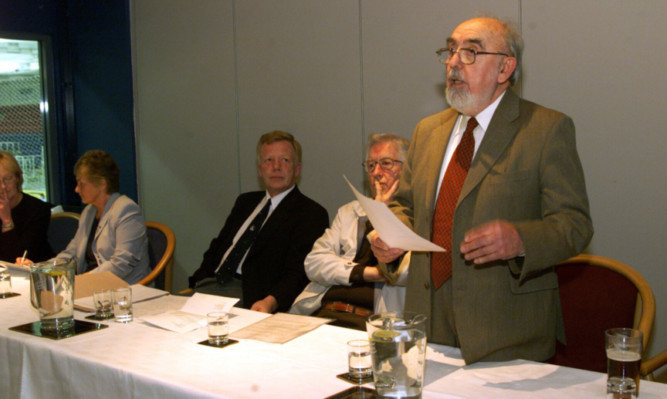 A prominent Dundee businessman has left the bulk of his multi-million-pound fortune to his family and charitable trust.
William (Bill) Sword, who ran Swordy's Snacks which operated a hut at Dundee United's Tannadice Park for 21 years, also donated cash to Abertay University and £10,000 to Clepington Church.
Mr Sword, who died in August last year aged 86, bequeathed 2,025 shares in Morton Properties (Dundee) Limited to the trust with other shares going to his five children.
He also bequeathed £5,000 for his trustees to donate to charity and cash sums to other family members.
Mr Sword was well known in Dundee property and business circles having set up Morton Properties (Dundee) Ltd in 1972.
He also served for many years as a Justice of the Peace, and was asked to serve as an honorary sheriff.
During his many years in business, Mr Sword found time to serve as president of Dundee Ratepayers' Association, chairman of Dundee and Angus Ice Rink, chairman of Dundee Ice Arena and as an elder of Clepington Church for more than 40 years.
In 1999, to help children and young people, he formed the WM Sword Charitable Trust which has distributed many thousands of pounds in aid, locally and overseas.
Betty, his wife of 62 years, passed away in 2011.
Having left the army, and with £21 between them, the couple set up a canteen at Bell Street Tech.
Through talking to students, Mr Sword found they struggled to get suitable accommodation so he started ploughing his canteen income into flats that he rented to the students.
In 2009, Abertay University awarded him an honorary doctorate for services to the institution.