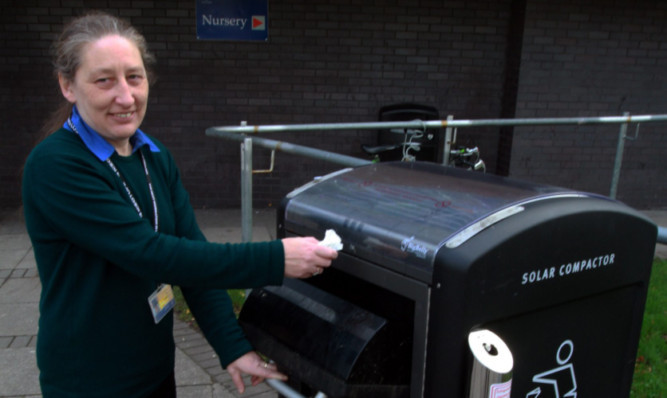 MORE THAN 500 Dundee University employees, representing nearly a fifth of the total workforce, have signed up for a car sharing scheme that helps to cut the institution's carbon footprint while enabling staff to make significant savings.
The university signed up for the Liftshare scheme in 2008 and a total of 517 employees have now registered to see whether they can be matched with colleagues to share journeys and therefore transport costs to and from work.
More than 200 of the registered members have now been matched and this represents a saving of 154 tonnes of carbon per annum.
According to Liftshare, this makes Dundee one of the most successful higher education institutions in the UK for encouraging staff to consider car sharing.
Trudy Cunningham, environment and sustainability officer at the university, said: "It's fantastic that so many staff have signed up to this initiative and we are always looking for more to do so.
"The more staff that sign up, the more we will find matches for those who have done so previously. That means people will save money and the university's carbon footprint will be further reduced."
Ali Clabburn, managing director and founder of Liftshare, said: "Everybody at Liftshare is delighted to offer our congratulations to Trudy and the team at Dundee University for reaching such a massive milestone.
"To have so many staff signed up to the scheme is a tremendous achievement and, as a result, the university have shown they are a leading organisation in Scotland in terms of car sharing.
"We're certainly going to be using the university as a best practice example to inspire many of the other clients we work with."
The Liftshare scheme is just one example of the university's initiatives to promote sustainable transport.
Having obtained funding from Transport Scotland, it has purchased four electric vans to replace petrol vehicles, saving 11 tonnes of carbon each year.
The university was the first employer in Tayside to receive a Cycle Friendly Employer Award recognising its efforts to encourage staff to leave their cars at home and cycle to work instead.
A Cycle to Work initiative allows staff to hire bikes and safety equipment at a cost-effective, tax-free rate that avoids an expensive initial outlay, while a bike pool is available for staff who wish to travel around the university estate on two wheels or to use to attend meetings in the city.
Approximately 10% of staff and students commute by bike and a bicycle users group has already been established at the university.
New racks and lockers have been installed across the campus to allow cyclists to safely park and secure their bikes outside the most commonly used buildings.
In total, more than 600 tonnes of carbon have been cut from the university's transport footprint as a result of the various initiatives over the past four years.
smorkis@thecourier.co.uk