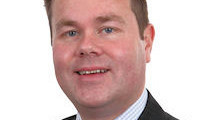 Scottish Ministers have still to decide whether a multi-million-pound 50-hectare Montrose business park proposal will be called in.
Angus councillors last month gave the go-ahead for the John Lawrie Group plan on the large site at the town's former airfield off Charleton Road.
In backing the proposal, the area's development standards committee also threw out a suspensive condition which would have stalled the development until completion of the long-awaited Laurencekirk flyover at the A90 crossing with the A937 leading south to the Angus town.
Montrose councillor Mark Salmond has now backed the decision of his development standards counterparts and said the Scottish Government should allow the project to begin before the grade separated junction is in place.
"John Lawrie's new business park at the north end of Montrose is the next big step in attracting new businesses and allowing existing businesses to expand into the offshore renewables industry," said Mr Salmond.
"The recent news that Dundee port is spending £10m on developing a new quay to attract offshore renewables makes it imperative that work on Montrose's new business park begins as soon as possible.
"With the proposed Inchcape offshore windfarm off the Angus coast and the excellent facilities at Montrose port, this new business park will allow Montrose to become a hub for offshore renewables and create a substantial number of new jobs in Angus."
Mr Salmond added: "It would be unthinkable that the new business park could be delayed because of Transport Scotland planning condition.
"There must be a balance between the timing of the new junction and this multimillion pound investment."
A Scottish Government spokeswoman said: "Ministers will advise in due course whether the application has been cleared back to the council or called in for Ministers' determination."