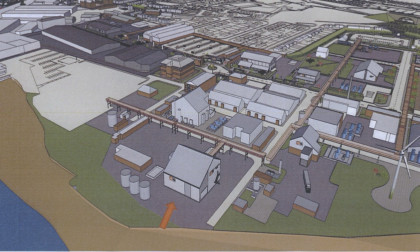 One of the main employers in Angus has revealed £25 million plans to extend its local base of operations.
Global pharmaceuticals giant GlaxoSmithKline has lodged a pre-application notice with Angus Council for an API manufacturing facility at its Cobden Street works in Montrose.
The Active Pharmaceutical Ingredients building is anticipated to cost between £25m and £28m, and the firm states the facility is required in order to provide a back-up plant for a primary plant in Singapore.
GSK state the proposals will add 25 new jobs locally and will be designed with future expansion in mind. Around 100 people are already employed at Cobden Street. The three-storey building would have a footprint of 30 metres by 30 metres, an eaves height of approximately 12m and a ridge height of 16m, in order to accommodate "a range of gravity fed equipment".
Its main function is to provide "new chemical entities" and would be a key production area for worldwide operations.
A maximum of 10 people would work in it at any one time, and the hours of operation would be 24 hours a day.
The building would distribute materials throughout the site and any deliveries would be of drums on pallets or tankers to existing bulk tanks.
There are three existing tanks which screen the proposed new building from the Ferryden side. The proposed manufacturing facility would have the capability to produce up to 1,500kg of APls each year.
These small-scale APls are manufactured by multiple stages of chemical syntheses, carried out in a series of closed and contained vessels under controlled conditions.
The resulting end products are isolated and packaged as crystalline solid materials.
GSK has been under pressure in China since it emerged last summer that authorities were investigating bribery by its staff which allegedly saw as much as £324 million paid through travel agencies and consultancies to doctors and health officials to boost sales and raise prices.
Pharmaceuticals and vaccine sales in the region were down by as much as 29% over the final three months of 2013.
However, chief executive Sir Andrew Witty said in February the situation was "starting to stabilise".