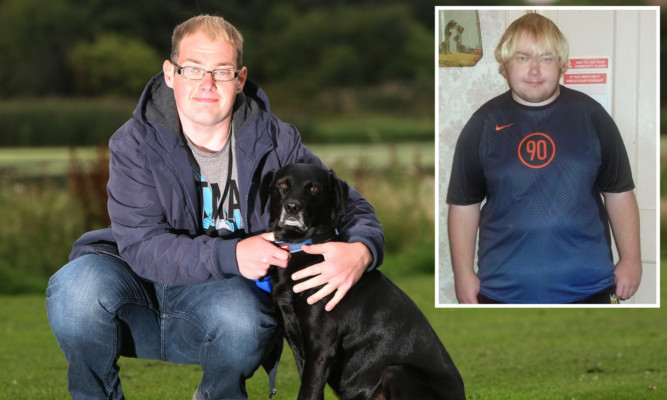 An Angus man has told how his dog has helped inspire him to lose a whopping nine stone.
Robert Fleming, 29, from Forfar, is now enjoying a new lease of life after shedding almost half his body weight.
He is now set to compete in the Scottish Half Marathon and has shared his story to inspire others who are battling the bulge.
"I started my weight loss journey in 2012 when I was 20st 3lbs," said Robert, who is a full-time carer for his mum.
"I had been depressed for a number of years since leaving school and I wasn't looking after myself and I was just a mess."
Robert was also feeling pain in his heart but the death of his dog Max to old age encouraged him to try to turn his life around.
"I knew something had to change," he said. "Losing my dog was hard but I knew deep down I had to take care of myself to look after my mum."
Within a few months Robert had lost four stone but he suffered a setback and put the weight back on again.
In 2013 he got a new dog and his black labrador Tiki was responsible for helping him get his life back on track.
He said: "I was getting up at 5am which was a shock at first but after a few months my weight started to drop off.
"Without Tiki I don't think I would be where I am today.
"When I got him he was so shy and nervous he wouldn't even come out off his room unless it was for his walk or food.
"As the months went on we helped each other and he's much happier.
"I take him for a walk four times a day.
"The more weight I lost the happier I became. Then I joined the gym and got myself a new bike.
"As the months went by the weight just dropped off. I was eating healthily and exercising every day."
Robert will celebrate his 30th birthday by running the half marathon a goal he set himself when he started his weight loss journey.
He said he wants to inspire other people who are suffering with their weight to make changes in their lives for the better.
"A lot of people can fall into this trap because there is unhealthy food everywhere you turn," he said.
"I do have a treat now and again but before it used to be every day. It's just about education and knowing what is good and what is bad.
"I just cut back on what I was eating and did more exercise."
To donate to Robert's marathon fund in aid of Chest Heart and Stroke Scotland go to www.justgiving.com/robert-fleming2.