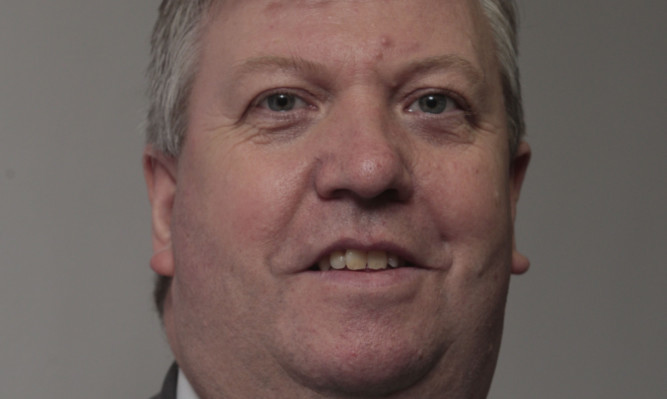 A Labour MSP has vowed to bring the 26-month fight for Frank's Law to the Scottish Parliament chamber.
Michael McMahon is passionate about the subject as his entire family has been touched by the disease.
He told Frank Kopel's widow, Amanda, that he supports her efforts to have Frank's Law delivered sooner rather than later.
Mrs Kopel's husband died in April last year having been diagnosed with dementia in 2009, when he was aged 59.
He and his wife paid about £300 a week so he could have personal care in his Kirriemuir home because he did not reach the qualifying age for free services until weeks before his death.
Mrs Kopel, from Kirriemuir, is urging ministers to close this loophole a bid The Courier is backing.
Mr McMahon said: "My father died from dementia and my mother also had dementia brought on by the stroke, which eventually led to her death.
"Dementia has affected my mother's family in particular with her own mother, two sisters, a brother and an aunt also dying from dementia.
"Her eldest brother has recently been diagnosed with dementia too.
"My mother's younger cousin was diagnosed with dementia at the age of 55 and died from it by the time she was 62.
"She was affected by the same rules which discriminated against your husband which denied her access to free personal care.
"Unfortunately my only sister was diagnosed last year with dementia at the age of 49."
Mr McMahon said his sister, who has two sons aged 20 and 17, is currently facing the same problems Mrs Kopel encountered.
He said: "They are having to support my sister as best they can without the financial assistance they need."
The Labour MSP also told Mrs Kopel that he will fight for Frank's Law in parliament and will be happy to support her in any way he can.
Mrs Kopel, from Kirriemuir, has grown "increasingly frustrated" at what she sees as a lack of support for Frank's Law from the SNP administration.
She said she was "absolutely delighted" Mr McMahon has joined the fight, but said she was "disappointed" that it wasn't her own MSP who is taking the debate to the chamber floor.
She said: "Mr McMahon has walked the walk. He totally understands. He is a brave man."
Mrs Kopel and her Angus South MSP, Graeme Dey, publicly disagreed last month following what the 65-year-old described as a "strained meeting" with him.
She accused him of declining to give his full backing to her campaign, but Mr Dey disputed her view of the meeting and described it as "constructive and positive".
Health secretary Shona Robison has told Mrs Kopel that Frank's Law is "absolutely a priority" for the Scottish Government.