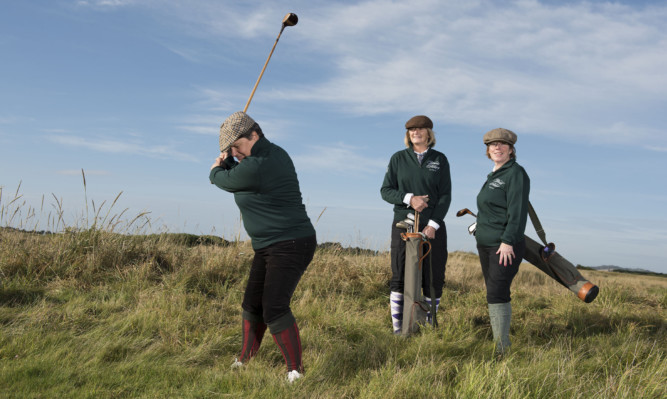 On any course it is the anger-inducing, card-breaking epitome of golfing ignominy.
But for organisers of the World Hickory Open the achievement of racking up double figures could not have been sweeter in the sun-kissed calm of autumn at Carnoustie's Championship course yesterday.
More than 120 golfers from across the globe have travelled to Angus to tee off in the 10th anniversary tournament celebrating the equipment, skills, etiquette and style of golf's early glory days.
The decade of success is being marked with the event's largest ever field.
Carnoustie Country has staged the open for the past four years and tournament founder Lionel Freedman said enthusiasm for hickory golf has soared.
"At the first World Hickory Open in 2005, very few competitors had their own hickory clubs, the overwhelming majority were British and many were trying hickory golf for the first time.
"Now, almost all of the competitors have their own specialist hickory equipment, including outfits, and there are competitors from 18 different countries.
"Sadly, due to other commitments, last year's winner, Sandy Lyle, will not be defending his title but attracting players of his calibre demonstrates the excellent reputation the World Hickory Open has gained over the last 10 years."
Swiss expert and hickory club restorer Paolo Quirici, who won the title in 2013, said: "To me, playing golf with a club which has stood the test of time and which I have had the privilege of returning to its former splendour is an honour.
"Hickory golf has brought the fun back to a game that's been part of my life for over 40 years. I love it."
Recent convert Paul Adams will be part of the South African squad defending the team title the nation won in 2014.
He said: "Our team's first round was nerve-racking as, between us, we'd only played 20 holes of hickory golf.
"Yet the welcome, support and encouragement we received provided us with the best possible introduction to the wonderful world of hickory golf."
For more information visit www.worldhickoryopen.com.