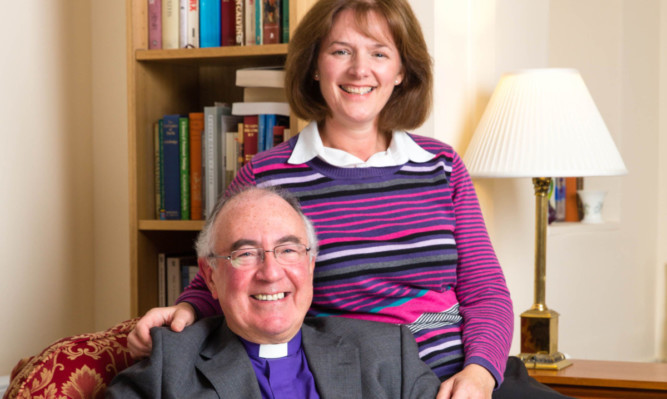 The Moderator-Designate of the General Assembly of the Church of Scotland has praised Ninewells Hospital doctors for saving his life.
The Rev Dr Angus Morrison hailed the Dundee team as he talked openly for the first time about having prostate cancer urging other men to seek tests if they have symptoms.
Dr Morrison's diagnosis led to him becoming the first moderator-designate in history to withdraw from the role.
After accepting the nomination in October 2013, ill health forced him to step aside just weeks before the General Assembly the following May.
The Church subsequently invited him to take up the position following his return to fitness, and he will step into the role at next month's General Assembly.
In a moving interview in May's edition of Life and Work, the independent Church of Scotland magazine, Dr Morrison, who lives near Kinross, expressed regret he did not consult doctors sooner.
He said: "I am a man who is very slow to go to the doctor with anything and I would just encourage anyone with worries about the same sort of thing to go as soon as possible and have it checked.
"It can be easily treated. The important thing is to have it treated in good time.
"I had prostate cancer. I am full of gratitude to the team at Ninewells Hospital in Dundee who carried out my surgery.
"The doctors involved in my treatment are confident it has been successful.
"I was overwhelmed by the number of people all over the Church who wrote to assure me of their prayers.
"I fully believe that this had its own impact on the situation. Prayer is power."
Becoming the first Moderator-Designate in the memory of the Church to withdraw from the role as the Church's ambassador was not an easy decision, but he is confident it was the right move.
"It all happens for a reason," he said.
"It is clear to me, looking back that John (the Rt Rev John Chalmers, who stepped in last April to take up the role) was well prepared and well equipped to address the issues that were prominent during his year. I see God's hand in all of that."
He said he was humbled when the 2014 General Assembly asked that he be considered for nomination in 2015.