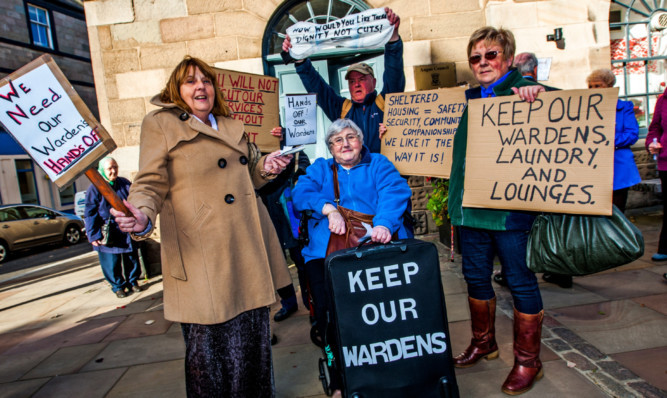 An Angus campaigner who devoted her life to the welfare of the elderly has entered the row over possible changes to sheltered housing provision.
Just days after OAPs from across the district took a "hands off" message to the Angus Council debating chamber over fears sheltered housing wardens and community lounges could be under threat, former Angus Age Concern chairman Dr Betty Cohen has warned council chiefs over the possible impact on the frail and elderly of cost-cutting measures already in place and on the horizon.
Angus senior citizens claimed last week that the measures under consideration by the authority could leave vulnerable residents feeling cut off and alone.
The council has stressed that no decisions have been made and said local views, which have flooded in as part of the consultation process, will be fully considered.
Dr Cohen, who for decades was instrumental in the campaigning role of Age Concern Angus with her late husband, Dr Cyril Cohen, said she was becoming "increasingly concerned about the way things seem to be going for older people in Angus."
Mrs Cohen said that as far back as 15 years ago, a survey of the elderly revealed that even then wardens and the facilities provided were highly valued.
She also criticised the council's decision to bring in new criteria for the free laundry service, making those who have access to laundry facilities ineligible.
Mrs Cohen said: "I know the laundry service was very much appreciated by those looking after incontinent spouses.
"Although many had washing machines, fewer had drying facilities and often kitchens were too small to accommodate them."
She added: "Certainly these surveys were done some years ago but I doubt if older people have changed any.
"However there have been changes. Self Directed Support has been introduced not I believe popular with Angus Council social work and council taxes have been frozen by the Scottish Government for a number of years now.
"Perhaps we should be lobbying our MSPs instead of Angus Council."
Around 50 protesters, many bearing placards protesting against possible changes, converged on last week's meeting of the full Angus Council in Forfar to make their feelings known.
Council leader Iain Gaul has said consultation views will be fully considered.
"Our care services must be focused on people rather than places, so care is attached to your needs rather than your address," he said.
"The purpose of this consultation with sheltered housing tenants is to properly gather their views to give us an accurate picture of what people need, so we can plan for the future and provide the most appropriate type of housing for people's needs."