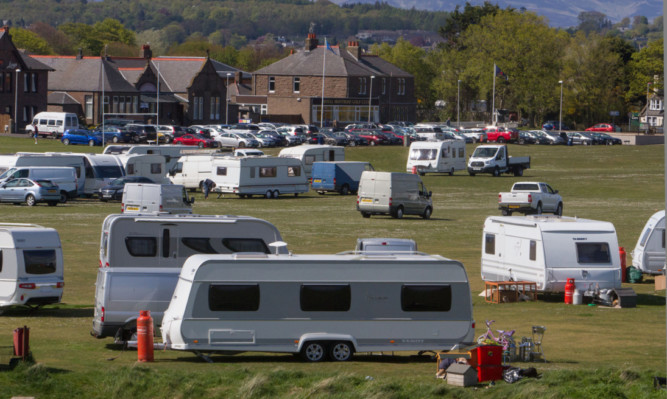 Angus Council adopted a "live and let live" approach to more than 30 illegal Traveller camps in Angus between 2014 and 2015.
The highest number (21) were located in Montrose, with the Montrose Golf Links cited as one of the most problematic areas with up to 40 caravans parked there on one occasion.
Just two eviction notices were served to the 33 illegal camps throughout the 12-month period.
The clean-up costs were a relatively low £165.28 with Angus Council explaining that they offered black bin bags to Traveller groups and collected them on a passing basis.
Montrose councillor Bill Duff said it was difficult for the council to obtain eviction notices.
He added: "Prior to 2013, police in Tayside were able to move illegal campers on or charge them with trespass.
"But now, simply camping illegally on someone's land is not considered criminality, so the landowner needs to get an eviction notice from the court.
"However, the courts will only issue an eviction notice if there is proof of mess, noise or any other significant nuisance.
"We can't get an eviction notice just because someone is camping illegally."
Mr Duff went on: "I've had a lot of calls from constituents who are angry about illegal camps, especially at the Montrose Links golf course.
"In the summer there were around 30 or 40 caravans there for some religious festival, and that's when the council took action to get an eviction notice. But if it's a small camp and people are behaving themselves, there's a tendency to live and let live.
"We're now looking at putting up barriers to prevent vehicles getting into that area of the golf course.
"Similar steps were taken at Lochside Leisure Centre in Forfar and the situation there has improved."
An average of three illegal Traveller camp sites per week were recorded in Tayside and Fife as a whole.
The total clean-up costs came to at least £9,063, with the actual figure likely to be higher as some councils admitted there were gaps in their records.
Altogether there were 142 illicit encampments on both private and council land, with 65 of them being served eviction notices.
The highest number of illegal camps recorded (74) was located in Fife, the majority being in Glenrothes.
There were 35 eviction notices served, with cleaning costs totalling £4,301.
Perth and Kinross had a total number of 19 illegal camps and the local authority served two eviction notices.
The clean-up costs were £249,08 on council land alone, between August and November 2015.
Perth and Kinross Council said "figures were not recorded for this work in most cases in the past 12 months".
Dundee had the lowest number of illicit camps, with 15 recorded in the city between November 2014 and the end of October 2015. The clean-up costs amounted to £4,350 for the manual labour only, according to the figures.
Police Scotland said that due to the right to roam, contained within the Land Reform (Scotland) Act 2003, police could not take action against someone camping on council or private land.
A Scottish Government spokesman said: "The right to a traditional way of like for Gypsy and Traveller communities must be exercised responsibly and balanced against the rights of the wider community, and there are a number of civil and criminal law provisions which can potentially impact on unauthorised sites."