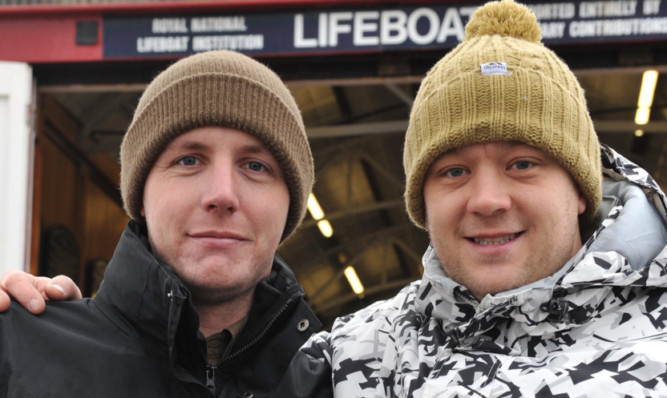 Chanting their young children's nursery rhyme in a pitch dark and freezing North Sea, two best friends had accepted death.
As Tayside jet skiers Gavin Smith and Ben Thomson drifted towards their doom in massive swells, they could see the lights of lifeboats scouring the waters off Broughty Ferry, Angus and Fife.
Their dramatic rescue in November saw the Dundee men become two of 1,055 people plucked to safety by RNLI volunteers in Scotland last year, in what was a record-breaking 12 months for the service.
For the second consecutive year Broughty Ferry was the busiest of the country's 46 stations with 103 launches and 37 rescues.
But it was the crew of Arbroath lifeboat, The Inchcape, who came to the aid of Gavin and Ben as they huddled together in a desperate bid to survive.
Reciting a poignant rhyme created by Gavin's son Quinn (2) and Ben's daughter Jessica (5), one man would call out, "Love you lots," while the other screamed back, "Jelly tots," as the lifelong friends prepared to die.
"We just kept thinking about our family and kept on repeating the rhyme," said Gavin, who works as a delivery driver and lives in Broughty Ferry.
"When you are that cold it was easy just to lie back and accept death. It felt warmer when you lay back.
"The two of us tried to drown ourselves, but if one of us went down the other one would pick them up. We just kept talking about the children the whole time."
After spending more than three hours in the icy waters, the pair were finally detected when Ben found the strength to blow on a whistle attached to Gavin's lifejacket, just as the motors of The Inchcape had been dulled to receive a radio transmission.
They had drifted nearly 10 miles towards the open sea when they were picked up near Barry Buddon, having originally got into trouble off Tentsmuir, Fife.
The dramatic rescue came the day after a man lost his life off Arbroath and operations manager of the station Alex Smith said that it had helped a lot of the crew to come to terms with the tragedy.
He added: "These kind of rescues are what the RNLI is all about. People have to remember this is about volunteers going out there to save lives funded by contributions coming entirely from the public.
"The night before, we had been out picking a body up from the cliffs it is another part of the job we have to do."
Other statistics revealed by the RNLI show there were 1,008 launches across Scotland last year, and 29 more rescues than the previous highest count in 2006.
A total of 386 shouts took place at night and the busiest inshore station was at Queensferry, near Edinburgh.
More than 15,450 hours were spent at sea by Scottish crews in 2012.
Anstruther lifeboat was at sea for 628 hours on emergency calls including the rescue of two people from a motorboat in August, which earned helmsman Barry Gourlay a bronze medal from the charity.
Arbroath was the sixth busiest station with 41 launches, a rise of 10 on the previous year.
Regional operations manager for Scotland, Andy Clift, said: "The figures show that our volunteers dedicate a huge amount of their time to saving lives at sea."
gbletcher@thecourier.co.uk