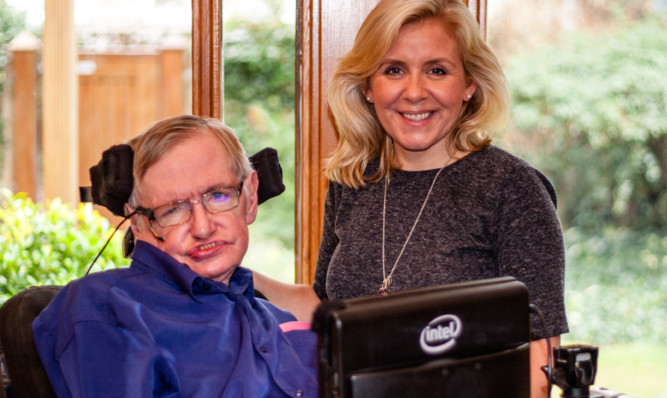 Ahead of a children's science event in Dundee, Lucy Hawking, daughter of esteemed physicist Stephen Hawking, speaks about the 'privilege' of working with her famous father.
The name's Hawking. Lucy Hawking. There are not too many surnames that have an immediate association with an esteemed world figure.
But there's no denying that being the daughter of legendary theoretical physicist Stephen Hawking has its advantages when you are trying to promote science to a young audience.
Former journalist turned children's author Lucy Hawking is on a train travelling from the BBC Breakfast studios in Salford when The Courier calls her.
She's been promoting her latest book 'George and the Blue Moon' the fifth in a series of acclaimed publications which aims to explain science to young readers.
And it's characters from these books which will help youngsters take part in a cosmic treasure hunt and discover the key to the universe – at a Dundee University event this weekend.
Explore the Universe with Lucy Hawking, aimed at children eight-years and upwards, will be using the characters from her books to guide the audience through the theories that feature in each of her George stories and share some animations narrated by her father.
Lucy published George's Secret Key to the Universe, an adventure story about a small boy who finds a way to slip through a computer-generated portal and travel around the solar system.
Written with her father and his former PhD student, Christophe Galfard, it has been translated into 38 languages and published in 43 countries.
A further three titles in the series, George's Cosmic Treasure Hunt, George and the Big Bang, and George and the Unbreakable Code, have subsequently enthralled readers around the world and Lucy now regularly hosts workshops such as the Dundee event as a way of stimulating interest in science in children.
"I had the idea for George's Secret Key to the Universe several years ago when my son William was about eight," Lucy, 45, of London, told The Courier.
"A little boy asked my dad a question 'what would happen if I fell into a Black Hole? 'My dad said he would 'turn into spaghetti'. I thought that would make such a great book!"
Lucy liked the idea of having fun and being informative with science at the same time.
She also liked the idea of working with her dad, the immediately recognisable 'Brief History of Time' genius who suffers from a form of motor neurone disease which has gradually paralysed him over the decades.
She said: "It was an eye opener. Of course he was my dad, but I'd never worked with him before, and he had never narrated fiction before. He has such a memory bank of knowledge, and it was amazing how quickly he could solve a problem. He also gave some pithy one-liners! He was amazing. I felt very privileged to be allowed to work with him."
Lucy had been a journalist for more than a decade when she wrote that first George book, and had also written two fictional novels for adults. But this was her first children's book and she enjoyed the challenge.
She loved the escapism of reading as a child and had always been fascinated by stories where people could move from one world to another.
A key aim was to achieve a very good and very natural feeling balance between the storyline and between the scientific content they wanted to include.
She added: ""We never wanted the reader to feel at any point 'oh here comes the science'. We deliberately don't want it feel like you are being educated at any point on the book.
"What we tried to do was work in such a manner that the science and the story line flow together and depend on each other to move forward."
The overall grand vision of the books are based on her father's 40-year-career as a theoretical physicist.
He now communicates using a single cheek muscle attached to a speech-generating device.
Lucy was aware that he was already famous throughout the world for his iconic voice.
But what she didn't realise until relatively recently is how young his fan-base is.
Lucy described watching her own family's complicated private life in 2014's Oscar-winning hit The Theory of Everything as "surreal" and confessed she was touched by a scene showing her father imagining himself free from disability.
"Anybody would find it strange to see their family life being portrayed on the big screen, " she added, "but the film was beautifully made, with so much attention to detail. It was so authentic. It's a bit like looking at a live version of our family photo album when I see it now. Really odd, but really well-done."
*'Explore The Universe with Lucy Hawking takes place at Bonar Hall, Dundee University, at 11am on Saturday March 19 and is suitable for children aged 8 and over. Under-16s must be accompanied by an adult and a book signing will follow the event, which takes place in conjunction with the Women in Science Festival.
Tickets can be obtained from
https://www.eventbrite.co.uk/e/explore-the-universe-with-lucy-hawking-suitable-for-over-8s-tickets-21561317481
.