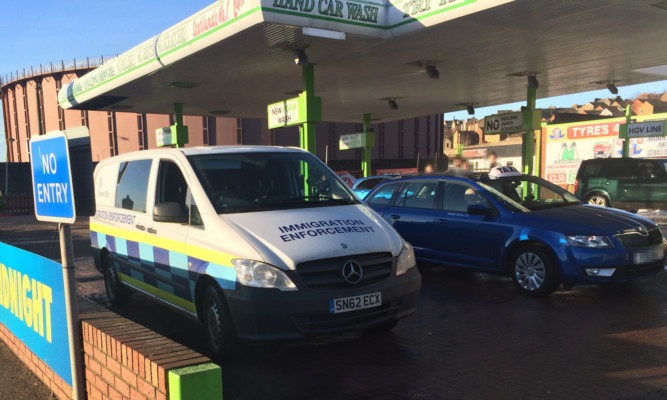 Immigration officers swooped on A1 Car Wash on East Dock Street
Two marked immigration vans, and one unmarked blue one were parked on the forecourt at midday on Wednesday.
Officers questioned staff at the business to find out whether they had the right to live and work in the UK.
Two Pakistani men aged 21 and 57, who had overstayed their visas, were arrested.
They are current in immigration detention while steps are taken to remove them from the UK.
The business was served a notice warning that a civil penalty of up to £20,000 per illegal worker found could be imposed.
Unless they can demonstrate that the correct pre-employment checks were carried out the business will be liable to pay this penalty, such as seeing a passport or Home Office document.
If proof is not provided, this is a potential total of up to £40,000.
Adam Scarcliffe, Assistant Director of Immigration Enforcement Scotland, said: "Our dedicated teams respond quickly to reports of illegal working and we will continue to make life tough for those who seek to abuse the rules.
"Illegal working it not victimless; it cheats the treasury of vital funds, undercuts honest employers and often exploits some of society's most vulnerable people. It also means legitimate job seekers are denied employment opportunities.
"Employers in Dundee who flout the rules could face a heavy penalty. I would urge members of the public to report suspected illegal working to us."
The owner of A1 Car Wash did not wish to be identified and did not wish to comment when contacted by The Courier.