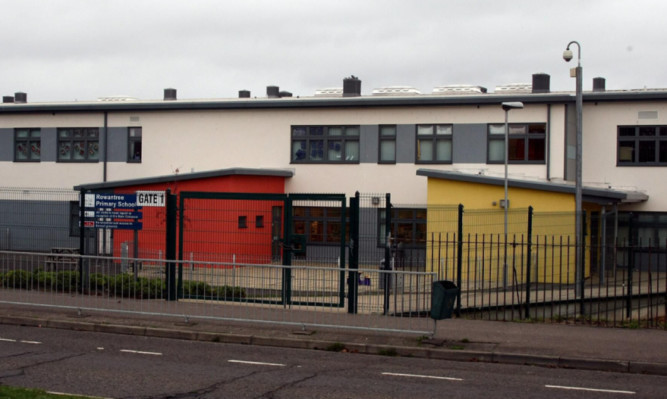 A senior councillor has called for an immediate investigation into why nine teachers have resigned from a Dundee primary school during the past year.
It's claimed the teachers were disillusioned by a lack of leadership at Rowantree Primary and parents say teachers feel they have been let down by the head teacher and the education department.
The Courier previously reported that four teachers resigned in the run-up to the Christmas holidays and it has since been confirmed by the city council that the number of teachers who left the school between January and December last year has almost reached double figures.
Now Labour's education spokesman in Dundee, Councillor Laurie Bidwell, has called for a full investigation into why so many staff are jumping ship from a school with fewer than 300 pupils on its roll.
Mr Bidwell's concerns came after parents contacted The Courier, reacting to last month's article regarding the four staff resignations which, a source claimed, had been caused by a lack of support over bad behaviour of pupils, including a "mini-riot" in the assembly hall.
One parent said: "I know for sure that this is not the case and the school is badly managed.
"I do understand the staff shortage and so on but if staff were treated properly and if and when things arise they are dealt with properly the school would not be as it is today."
Another parent said: "I have never seen so many unhappy and disheartened staff members from the same workplace as I have at Rowantree."
Councillor Bidwell says he will write to director of education Michael Wood with his concerns over the parents' claims regarding the management of the school and the staff turnover.
One parent whose two children formerly went to Rowantree said: "In response to the article about Rowantree Primary, I'm disgusted to read that the kids are to blame.
"I think there's only one solution to the problems this school faces and it is to put in a new head teacher."
Another parent said: "Roughly nine teachers left the school in 2014 … I have never seen so many unhappy and disheartened staff members from the same workplace as I have at Rowantree.
"I may not have children at the school any more and I have nothing personal against her as a person, but I would still like to help get the school back on track and back being a community school as it once was.
"What is happening at the school is common knowledge around the community, and if you were to speak to any parent at the school they would tell you exactly the same as I have," the parent continued.
"One of the biggest problems is parents are putting in numerous complaints to the school office, with management saying it will be dealt with but with nothing actually being done.
"I think, and I'm sure I speak for many staff and parents when I say, the school would be a far better one with new management."Education chief respondsStewart Hunter, Dundee City Council's education convener, confirmed that nine teachers had indeed left Rowantree Primary School last year, but said they had left for "genuine career development reasons".
He also leapt to the defence of head teacher Emily O'Neill and called on Councillor Laurie Bidwell to apologise to the head teacher and other staff at the school for his "inaccurate accusations" and "insensitive comments".
Mr Hunter said: "Firstly, I want to reiterate my support for Emily. The comments are extremely unfair on a dedicated and hard-working head teacher.
"All the evidence shows that Rowantree's attainment and achievements have increased in the last couple of years and that has a lot to do with Emily.
"I can confirm that nine teachers have left the school. Not one of them has left for the reasons stated. They all have left for genuine career development reasons.
"It is disappointing that gossip is treated as fact without any evidence to back it up.
"As for Councillor Bidwell, it's regrettable that once again he makes inaccurate accusations without doing the sensible thing and getting his facts straight.
"He has my phone number and email and those of the director and other senior membersof the education department. Anyone with any decency would have ensured that they knew what they were talking about before commenting.
"I would suggest that in the future, before getting it wrong, he speaks to us and gets the truth.
"In the meantime, I think it would be a good idea if he apologises to the staff at Rowantree for his insensitive comments."