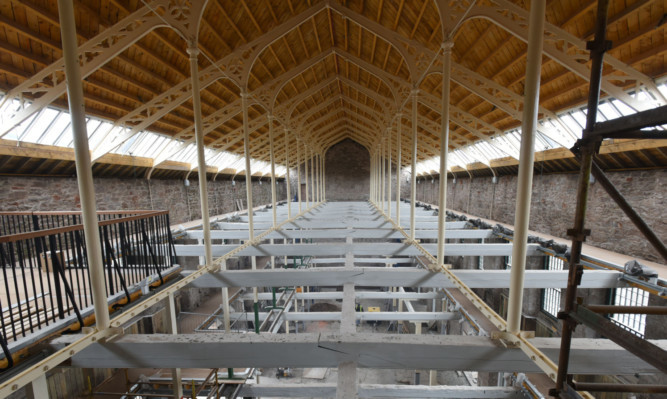 Dundee Heritage Trust has given a peek at a £2.9 million project that almost doubles the size of the award-winning Verdant Works museum.
The building restoration phase of the Verdant Works High Mill Open Gallery Project is now just days from completion.
New developments are scheduled to open to the public in late August and the restored and expanded museum will include displays on new themes such as power and engineering.
It will also allow more historic objects to be displayed.
The centrepiece exhibit is the 1802 Boulton & Watt beam engine.
It stands at more than seven metres and is predicted to leave a lasting impression on visitors, particularly on the days when it is working.
It will be installed once the building works are complete in the middle of July.
Gill Poulter, heritage director for Dundee Heritage Trust, said: "This project has been many years in the planning, so to now see it nearing completion is fantastic."
The three-storey High Mill and adjoining single-storey glazed alley have new roofs and windows, making the site wind and watertight for the first time in nearly 30 years.
Elaborate Gothic cast-iron roof trusses and columns have been restored to their former glory, repainted in colours confirmed by paint scrape analysis.
The removal of floors has created a full-height cathedral-like space, revealing the skeleton of the building and the monumental scale of the architecture, with viewing platforms at first and second-floor level providing amazing views.