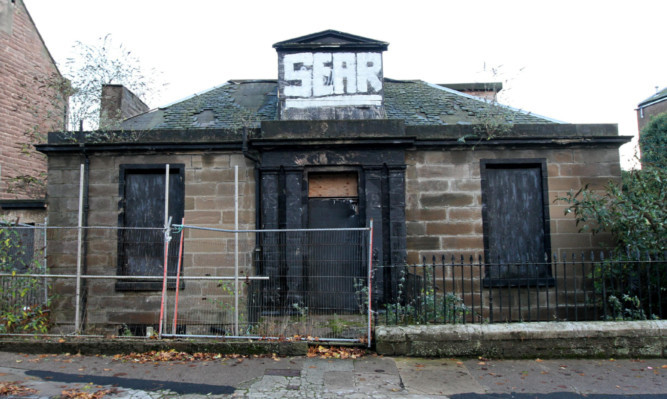 Plans to develop a long derelict building in the west end of Dundee have been refused after the Scottish Government said a two-storey extension was unacceptable.
The decision is the latest in the long-running saga between Dundee City Council and building owner John Cape, who wants to turn 28 Roseangle into a hotel.
The listed building has been in a state of disrepair and on the Buildings at Risk Register Scotland for 10 years.
It has holes in the roof following a fire, and one local councillor said he has had more complaints from residents about the property than any other in his West End ward.
The council previously issued a repairs notice on the building, requiring the owner to bring it back to standard, but so far no repairs have taken place.
After visiting the site, Padraic Thornton, a reporter appointed by the Scottish Government, said: "The building has been damaged by fire and it has been unused and unoccupied for a long period of time.
"It is in an extremely poor state of repair and has been on the Buildings at Risk Register for Scotland since 2005.
"Holes in the roof and unblocked window openings to the rear allow the elements and birds to access the building. It is a category C listed building dating back to around 1830, although some elements were added in the late-19th Century."
The Scottish Government refused the appeal against the local council's decision to deny permission for an extension, instead siding with Dundee City Council.
Mr Thornton said of the proposal: "The construction of a large extension in the rear garden as proposed would result in a discordant, obtrusive element which would, in my opinion, significantly alter the historic setting of the building.
"I consider that the development proposed would not be in keeping with the desire of preserving or enhancing the character or appearance of the conservation area."
A dual appeal to the council's local review body was also dismissed last month and a compulsory purchase order approved by the development management committee in June.
A spokesman for Dundee City Council said: "The next step is to seek the approval of a meeting of the full council to serve the order.
"Once that order is served anyone with an interest in the building can apply to a sheriff within 28 days for an order prohibiting further proceedings.
"The sheriff will then take a decision which can only be appealed to the Court of Session on a question of law."
Architect Peter Inglis, agent for Mr Cape, declined to comment on the decision.