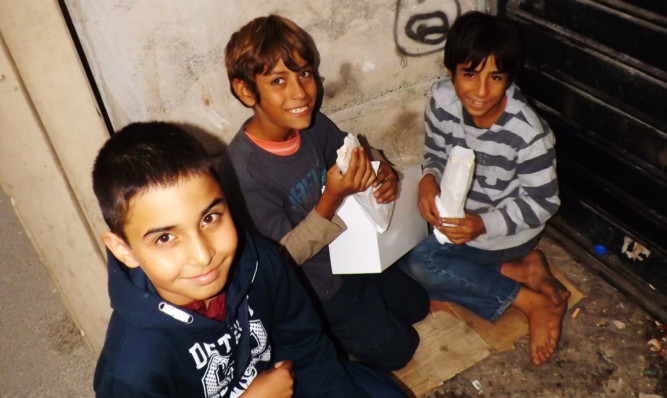 A Dundee father who took his son to Turkey on a refugee mission is urging people to get behind his campaign to help those affected by the crisis in Syria.
Shehraz Afzal and 12-year-old Shehbazz returned from a trip to Istanbul, which has been a destination for those freeing oppression in Syria for years.
They went out on a fact-finding mission to see where donation money could be best spent and have now shared their insights in the hopes of raising more money locally.
Shehraz said: "In Europe the problem is only a few months old but in Istanbul it has been going on for years. There are more Syrian refugees in Istanbul than the whole of Europe put together.
"Children as young as five are working in sweatshops for 15 hours a day. A lot of families are coerced by thugs into begging in the streets of Istanbul."
Some of the organisations they visited include Alliance of International Doctors, Muntada Aid, Hayata Destek and Mavi Kalem.
Shehraz said: "It is quite amazing the time and effort volunteers are putting in over there with only limited resources.
"There are approximately two million Syrian refugees in Turkey and 500,000 of them stop in Istanbul."
He said the main issues facing refugees in Turkey are access to services, schools, housing and employment even though the country has adopted an "open door policy".
One of the things that impressed Shehraz was the psychological support offered to those fleeing the war-torn region, including counselling and art therapy.
He said: "They have rehabilitation programmes set up by medical volunteers but it's a drop in the ocean."
Since their return to Dundee, first year Harris Academy pupil Shehbazz has also been giving talks about the trip at school.
Shehraz has also been asked to speak to a number of groups across Tayside.
Shehraz said: "We can help raise the profile of these organisations and we can also help with donations. I've seen the work they do and it is excellent.
"Especially at Christmas I know people will be focussing on their own families, but they could also be thinking about people who have lost their families, walking in bare feet, in the cold and the rain with little clothing.
"I think this time of year is the perfect time to think about people in need."
He added that all the money donated will go to the organisations working in Turkey as he pays for his trip himself.
Anyone who wishes to find out more can visit his Facebook page or to make a donation to his cause visit his crowdfunding page Dundee to Istanbul Supporting Syrian Refugees.