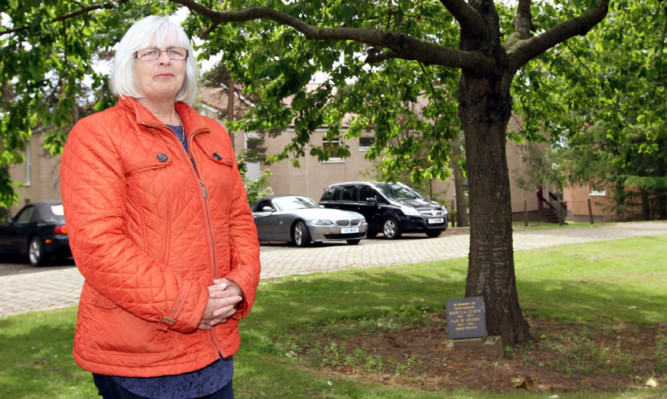 Hundreds of Dundonians have pledged their support for a threatened memorial tree dedicated to two tragic former Menzieshill High School pupils.
The tree was planted outside the school alongside a remembrance plaque in memory of 15-year-old Pamela Tully and fellow pupil Ian McShane.
It is at risk of being destroyed when the school closes next year, with Dundee City Council refusing to confirm if it will be saved.
The authority has agreed to move the plaque to a new site but has so far failed to make such assurances for the memorial tree.
Former classmates of the duo have set up an online petition calling on the council to ring fence the tree. The petition has sparked an immediate response, with 560 signatures being gained in just four days.
Pamela's grateful mother, Isobel Tully, 58, spoke of her hope that the tree could still be saved and thanked her daughter's classmates for raising awareness of the plight.
She said: "It (the petition) was launched last Thursday. which was actually Pamela's birthday. I had been in tears all day Thursday and Friday because I just didn't expect that people would really get behind this.
"There's been people from as far afield as Germany, Belgium and even Canada who have signed it and I'm absolutely delighted.
"I think the girl that set it up was only aiming for 100 signatures so to get over 500 is fantastic. I'm just so grateful.
"A lot of people think it's just a silly tree but it's devastating for me and for her schoolmates Pamela was their pal."
Isobel and Pamela's friends will meet this week to discuss their plans for the future. Among their ideas is the possibility of making a bird table out of the tree if they cannot find another solution.
A spokeswoman for Dundee City Council said: "Officers from children and families service have been discussing options directly with Mrs Tully."
Pamela and Ian's tree was planted following a fundraising campaign by their school friends. Pamela died from a rare form of leukaemia in 1993. Fellow pupil Ian died a year later.
The Menzieshill memorial tree petition follows on from a similar fight over a memorial tree in Perth.
Perth and Kinross Council came under fire after an ancient pine tree that acted as a tribute to former Perth Academy pupil Callum Owen and his brother Ethan was removed in 2013 to make way for a sports pitch.
The brothers were killed in a car crash, along with their mother, in 2009.
The Courier revealed in June that Menzieshill High was to close. Pupils and future generations will attend the new Harris Academy.