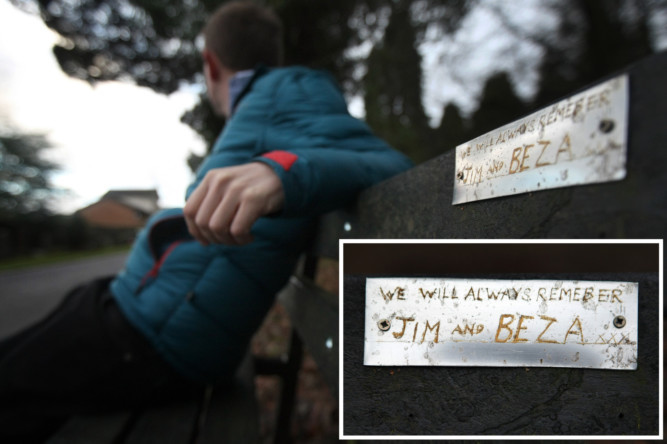 A dismayed Tayside-born man has spoken of his shock after discovering that a memorial plaque marking the life of his infant brother, who died just hours after being born, was cruelly torn from a bench in a Dundee cemetery and replaced with a bizarre tribute to someone else.
Rob Stephen, who lived in Brechin until the age of 12 before moving to Wales, made the discovery during a visit to Balgay Cemetery to pay tribute to the sibling he never knew.
However, he quickly realised that not only had vandals ripped the plaque from his brother's bench, they had attached a plaque honouring someone else in its place.
Mr Stephen organised for the plaque marking the existence of his brother, William, to be attached to a memorial bench in the city cemetery in an effort to ease years of pain for his elderly mother.
Rob's mum, Frances, gave birth to William at Dundee Maternity in 1950, but he tragically died 23 hours later.
For reasons unknown William's remains were buried without the knowledge of Frances, leaving her devastated.
The infant's final resting place remained unknown until 2012 when Rob traced him to a plot at Balgay Cemetery.
Upon his mother's death at the age of 102, Rob travelled north to see his brother's plaque for himself.
It was at this point that he discovered vandals had torn William's plaque from the bench and replaced it with a shoddy, amateurish plaque in honour of "Jim and Beza".
Admitting that he was glad his mum was not alive to learn of the vandalism, Rob, 62, said: "William was the second child my mum had who died.
"The first was stillborn and William, who was born at Dundee Maternity Hospital in 1950, died after 23 hours.
"We didn't find out where he was buried until 2012.
"After he died William was just taken away by the hospital staff without any consideration.
"When we finally established which cemetery he was buried in, we found we were unable to place a headstone because he was buried in poor ground.
"We did, however, pay to have a bench placed in the cemetery with a commemorative plaque
"It was important to my mum to commemorate the fact that William lived, even if it was only for 23 hours.
"After her death last year, we returned to Scotland in November to scatter her ashes.
"My sister was unable to accompany us because of illness, so we decided to go to the cemetery to photograph the bench for her to see but we couldn't find it.
"It soon became apparent why.
"Someone had removed our plaque from the bench and replaced it with one of their own making.
"If my mum was still alive I wouldn't have told her.
"I think it would have killed her.
A spokesman for Dundee City Council said: "The bench is privately owned, but once Mr Stephen has a new plaque we will happily rivet it on for him."