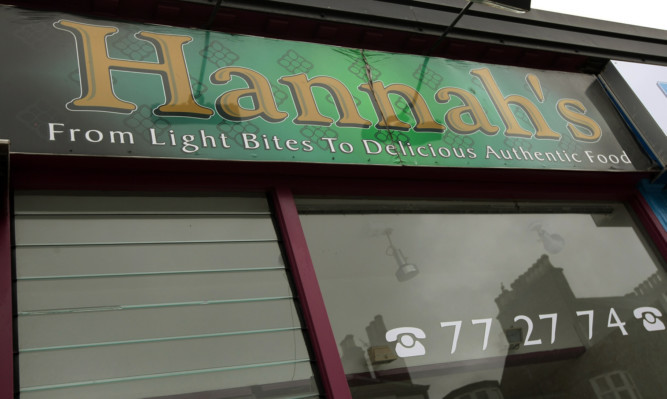 A Broughty Ferry takeaway has been stripped of its late opening licence after failing to address hygiene concerns.
Hannah's on Brook Street was urged to make improvements after Dundee City Council environment officers were left unimpressed by the results of a number of 2015 inspections.
The Indian takeaway is rated 121st of 298 restaurants in Dundee on review website TripAdvisor and boasts favourable reviews from customers.
It will now have to close its doors at 11pm, losing out on late-night trade, after the council detailed failings in the standard of "hygiene and maintenance" and "measures to ensure food safety".
Owner Mohammed Reza had been urged to make a number of improvements to the premises, but council officers told the city's licensing committee that the programme had "stalled".
Councillors were told that "several matters remained outstanding", including an overhaul of the raw food preparation area and the separation of raw food from ready-to-eat food in fridges.
Staff were said to lack training in food hygiene and correct cleaning practices, while disused equipment remained discarded around the kitchen, including hotplates, a heat cabinet and a microwave.
In fact, the latest inspection on January 5 saw a number of new concerns raised after it emerged water was leaking from the roof above the kitchen area and that staff, including the head chef, had little food hygiene training.
The committee heard that Mr Reza had been absent during the two most recent inspections and had failed to respond to requests for a meeting.
Committee convener Stewart Hunter said the breaches were "very concerning" and bemoaned the fact that the council would have to wait 28 days during which Mr Reza has the right to appeal before the ruling can be enforced.
Other councillors went further and said it was disappointing that tougher action could not be taken, but it is understood premises can only be closed when there is an "imminent risk to public health".
He said he had "no hesitation" in refusing the renewal of a late hours catering licence a view that was unanimously shared by fellow committee members.
Broughty Ferry councillor Laurie Bidwell said: "It is concerning that we have now heard repeated reports about food hygiene breaches at these premises and of a lack of contact with the proprietor.
"Every effort has been made to give him the opportunity to improve matters, but they still remain.
"Many of the food hygiene issues raised are pretty basic, including a lack of basic training, and that is very serious.
"It is important that these issues are tackled."
Lochee councillor Tom Ferguson said: "This situation could be very dangerous to the public. I am only sorry that we cannot do more at this time."
Environmental health officers will continue to make follow-up visits to the business in the hope of securing an improvement in standards.
The premises will be required to prominently display an "Improvement Required" certificate until it secures a "pass".
Mr Reza was unavailable for comment.