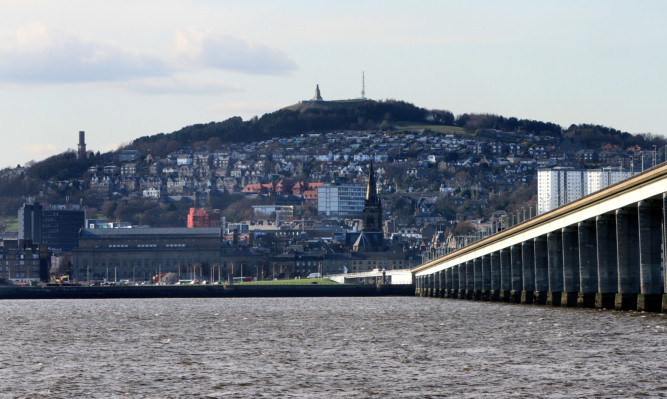 Dundee was Scotland's fraud hotspot during 2015 as the amount of money involved nationally rose by 80.9%.
In a single case, cash with a value of more than £6 million is said to have changed hands and bank accounts as a result of illegal activity in the city.
That sum involved a money laundering scam known as "cuckoo smurfing", which involves replacing legitimate cash intended for bank transfers overseas with "dirty" money.
Across Scotland, the latest BDO FraudTrack reports shows reported fraud rose from £10.038 million in 2014 to £18.164 million in 2015.
UK-wide, the sum rises to a staggering £1.5 billion.
In August last year, three men from Dundee and Fife became the first in Scotland to be convicted of cuckoo smurfing.
They had attempted to hide almost £700,000 of ill-gotten gains belonging to Scots gangsters.
The gang were found to have laundered their money through banks in Dundee via links in Pakistan, Iraq and the United Arab Emirates.
The trio were snared after a police operation caught them red-handed at a flat in Dundee in possession of a plastic bag stuffed with £75,000 in cash.
By far the largest number of frauds in Scotland involved simple theft, which usually entails a trusted employee exploiting their position to transfer funds or goods to accounts operated by them.
In one example from 2015 an NHS worker stole £1.3m worth of medical equipment, which he then sold for personal gain.
Another example involved an assistant in an accountancy firm who handled charity clients.
They transferred £726,000 from trusts established to help charities to other accounts which she benefited from.
Sat Plaha, head of regional forensic services with BDO, said: "The jump in the value of reported fraud in Scotland is skewed by the £6m value of the 'cuckoo surfing' case, but clearly it remains a major issue for Scottish business.
"This is because many simply do not have sufficient checks and balances within their operation to ensure that trusted employees cannot exploit loopholes.
"Without proper controls many companies may well suffer fraud for many years without noticing."