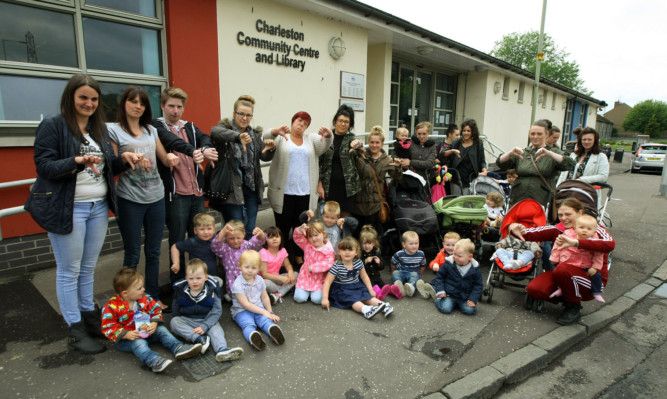 Irate Dundee parents are demanding answers over the sudden closure of a playgroup.
Several parents with children at Mucky Pups, which meets at Charleston Community Centre, claim funds held by the venue's management team have been frozen in the wake of the breakdown of the parent-led service.
A group of mothers turned up at the Craigowan Road facility on Wednesday only to find themselves shut out and told by Charleston Community Local Management Group, who plan and run events there, that the playgroup had closed indefinitely.
One parent claimed any cash held now won't be released until a new body is set up and a pre-paid planned trip next week is also thought to be in jeopardy.
Mum Gail Anderson said she was shocked to be denied access to the council-owned facility when she arrived.
"We didn't get any kind of a phone call or a letter letting us know not to bring the kids, or informed of any plans at all to discuss this and sort things out," she said.
"We're out on the pavement and the management are in the building and won't come out and speak to us and sort it out.
"Now there's mums out here, kids running around because they were all excited to play, and we can't do anything, we've nowhere else to go.
"We are also worried about the trip next week which might not go ahead now because of this."
Gail called for the issues to be "sorted out sensibly".
She added: "We've had no problems before this. There are disagreements, but they're always amicably resolved and the group has always been popular.
"We should have had an alternate arrangement and had everything sorted out."
Parents claim they were told complaints had been made against the group in the last few weeks leading to a decision to shut Mucky Pups down.
An alleged social media row over a decision to close the playgroup over the summer is believed to have contributed to the move.
Parent Karen Campbell said: "It was an argument, but the sort of thing that gets resolved in person. It was not a reason to clear us out.
"There are toys and things in there and they won't even let us get them so we can play with our kids.
"At the end of the day, it's really just silly it's the kids who are getting punished because of this."
Parents have had to make other arrangements for the rest of the week and said they would now make moves to attempt to set up their own playgroup.
Dundee City Council confirmed all dealings are between the playgroup and the management group.