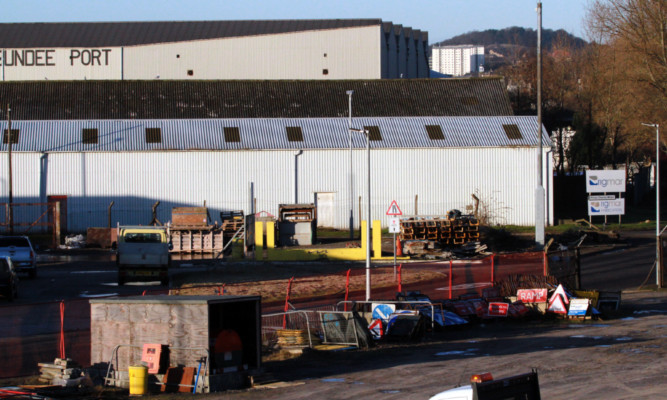 A 49-year-old man has died following an industrial accident at Dundee Port.
The accident happened at the premises of Rigmar at Prince Charles Wharf just off Stannergate Road on Friday afternoon.
The Health and Safety Executive (HSE) has launched an investigation.
A spokesman for Rigmar said: "At this time we would not like to comment.
"We can confirm there was an incident at our Dundee premises on Friday afternoon. Inquiries are ongoing."
Emergency services attended at around 2pm on Friday but were unable to save the man's life.
A spokesman for the Port of Dundee said: "Members of the emergency services attended but unfortunately a contractor working at the facility has tragically died.
"Our thoughts and sympathies go to the family."
A police spokesman said: "We attended a call from ambulance services shortly before 2pm on Friday following a report of an industrial accident.
"The incident involved a 49-year-old male who subsequently died.
"Inquiries are ongoing and a report has been submitted to the procurator fiscal.
"The Health and Safety executive has also been made aware and will be leading the investigation."
A spokesman for the Health and Safety Executive said: "HSE is aware of this incident and a thorough investigation has been launched to discover the cause."
Rigmar specialises in asset integrity, fabric maintenance and marine services and has operated in Dundee since 2012, when the company took over Riverside Engineering.
It now occupies a 15-acre site at Prince Charles Wharf where it carried out maintenance and upgrade work on rigs.
East End councillor and north of Scotland MSP Lesley Brennan said she hoped the investigation would prevent the possibility of future accidents.
She said: "First of all I would like to extend my deepest sympathies to the family of the man.
"You would never expect somebody to go to work one day and not to come back home again.
"The matter needs investigating to see if any lessons can be learned."