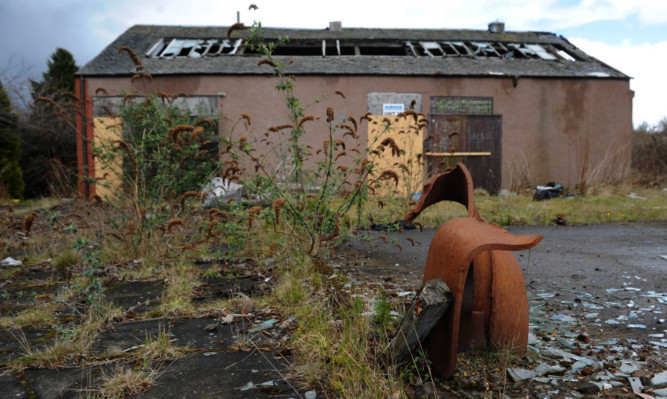 A Dundee man has claimed it is now just a matter of time before someone is killed at the site of the city's former Keiller factory on Mains Loan.
In the latest incident fire crews were called to a blaze on a patch of waste land behind the factory.
Residents said they heard a "loud bang" before thick clouds of smoke rose into the sky.
Lammerton Terrace resident Jim Sturrock said children had been seen playing in the area shortly before the blaze occurred.
He said the emergency services have been repeatedly called out to the Mains Loan site.
The factory has only been partially demolished and there is a large gap in the fence wide enough for an adult to easily pass through.
He said: "The police and fire service are here every holiday and just about every weekend.
"They only just boarded up the factory again.
"They demolished it then stopped. It needs to come down. Kids play in it and it's only a matter of time before someone is killed."
The Keiller factory shut down in the early 1990s.
It used to make sweets, including Toblerone chocolate bars. However, it has since fallen into disrepair.
Last July fireraisers were suspected of deliberately starting a blaze on the site.
No one was hurt in the incident.
Mr Sturrock added: "There are plans to build homes there but nothing has happened.
"We want to know what is going on.
"This has got to be knocked down."
Avant Homes, formerly known as Bett Properties, has permission to demolish the factory and build 131 homes.
Bett's original planning application, submitted to Dundee City Council last summer, said the development would provide "high-quality housing".
The company did not respond when asked to comment yesterday.
Last year, Scottish firefighters attended around 20,000 deliberately set fires in bins, skips, fly-tipped waste, derelict buildings, dry grass and heathland.
They attended between 10,000 and 11,000 fires involving refuse and rubbish. Nine out of every 10 of these fires have been set deliberately.
Each call-out costs Scottish Fire and Rescue around £2,000.