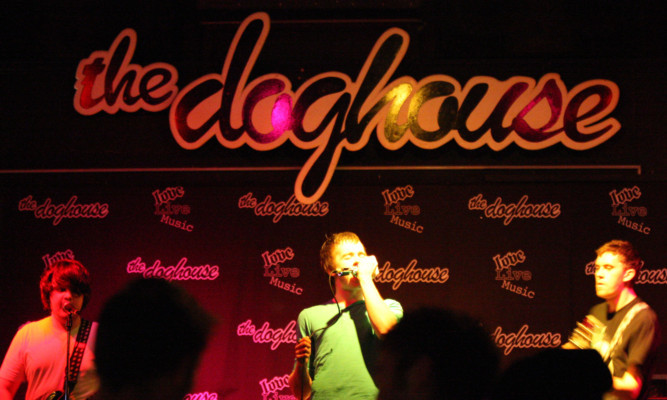 The embattled Dundee music scene is set to be rejuvenated with the Doghouse to reopen as a live music venue.
The company which owns the 20 Rocks venues in Stirling and Falkirk is behind the move.
It is taking over the lease from next month, with the aim of resurrecting the famous old venue's reputation as one of Scotland's best live music spots.
The Doghouse will change its name to 20 Rocks Dundee next month, with award-winning Dougie Black, who scooped the Booking Agent of the Year award at the Scottish New Music Awards 2012, back bringing bands to the Ward Road venue.
Tommy Hamilton of 20 Rocks said: "There's still a lot of things to be worked out but we're looking at opening in March. We're going to be working with Dougie from the Doghouse. It's important to get the local people back in.
"Dougie's a good lad and all the bands know him, so he'll be good for us. I've worked in the music industry for years and the Doghouse has always been one of my favourite venues. It's a great building and I'm really looking forward to it."
Meanwhile, more good news comes from the former operators of another hugely popular live music pub, the Bond, which closed down just over a week ago.
After seven years of providing live entertainment at the Dock Street venue, operators Lenny and Margaret Sylvester had called last orders due to "financial pressures".
However, the couple, who also operate Soul Nightclub in St Andrew's Street and Club Redd in Session Street, are determined to carry on with live music promotion and are looking for another, bigger venue in the city centre.
Margaret said: "It's really quite sad but we've been forced out by the financial pressures made on us. We just had to make a decision. We've been there seven years and we had to start from scratch.
"When we opened it, the place was derelict and we had to work hard to get it up and running. Sunday nights used to see about six people in the pub but it became our most popular night, with bands in the afternoon and then the Bottle Jam Band on at night.
"But we're looking for other premises. We definitely want to carry on putting on live music. The Bond was great but we're looking for something maybe a bit bigger, with later opening. We're looking at things that are coming up.
"Just now we're continuing with Soul. Stevie Anderson will keep his open mic night going on Wednesdays and on Sundays it'll be bands and then the Bottle Jam Band.
"It starts this Sunday afternoon with Shenanigans."
awilson@thecourier.co.uk