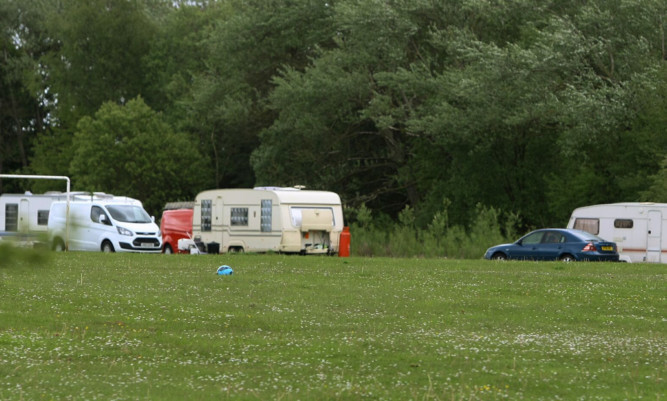 Fife Council has been forced to pay out more than £180,000 over the past five years to pay for the cost of illegal Traveller camps.
Fife Council spent £61,880 cleaning up unauthorised Traveller sites in the five years up to the end of the 2014/15 financial year.
A further £118,912 was paid out by the council during the same period on legal bills to evict Travellers from unauthorised encampments around the region.
The real cost of illegal Traveller camps is expected to be much higher as these figures do not include the cost to Police Scotland or the courts to serve, issue and enforce legal orders.
Businesses and landowners have also been affected, with damage caused to properties and preventative measures taken by business owners to ensure Travellers do not return.
Figures obtained by The Courier under the Freedom of Information Act show that Fife Council was asked to clean up sites 91 times between April 2010 and March this year.
During the same period, 41 eviction notices were issued and 41 cases were taken to court.
In 2014/15 there was £13,145 unpaid rent outstanding on authorisedTraveller sites.
However, outstanding council tax rates were minimal, with £78,362 collected in council tax from Travellers on authorised Fife Council sites.
Central Fife particularly Glenrothes and areas of west Fife have repeated problems with illegal camps throughout the summer.
Crail Airfield had problems last year.
The council operates three sites for Gypsy Travellers at Cupar, Kirkcaldy and Kelty totalling 50 pitches between them.
John Mills, head of housing with Fife Council, said: "Fife Council is seeking a better and more cost-effective wayforward to manage Gypsy Traveller unauthorised encampments in Fife.
"This is a national issue across Scotland for many local authorities.
"The only solution is to locatemanaged seasonal sites whereTravellers can be directed to.
"These sites would be managed, and nuisance to local communities would be reduced.
"The council has been searching for suitable sites over the past few months.
"The local reaction to these searches is important, and to date we have not located any suitable locations.
"Council officers are revising our site search criteria prior to reporting back to committee later this year.
"Travellers on our permanent sites are tenants and live on site for the majority of the year.
"We have discussed the option with nomadic Travellers of applying for permanent pitches on our sites but they do not wish to occupy these sites. The council cannot force them to do so."