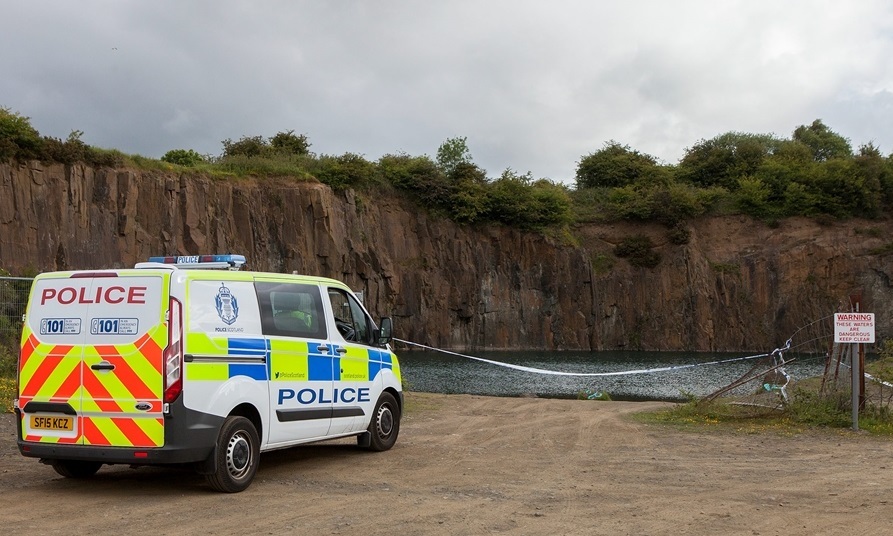 A body has been recovered from a quarry in the hunt for a missing teenager.
The 18-year-old named locally as John McKay was among a number of youngsters who gathered at Prestonhill Quarry, Inverkeithing, on Thursday night.
Police Scotland has yet to confirm his death but a body bag was seen being pulled from the water at around 10am.
Divers and a helicopter took part in the hunt which was launched at around 9.20pm on Thursday.
It was at the same quarry less than a year ago that 18-year-old Cameron Lancaster died after jumping into the quarry.
Panic broke out as parents rushed to the scene last night to search for their own children, who had arranged the gathering on social media.
Incident ongoing at Prestonhill Quarry Inverkeithing – police helicopter now on scene #prestonhill pic.twitter.com/ddULH3e0vV

— Richard Hardy (@Redvark) June 18, 2015
It is understood other youths jumped into the water to try to rescue the youngster but managed to get out.
Police Scotland said inquiries into the full circumstances surrounding the incident were ongoing.
Councillor Alice McGarry, who lives close to the quarry, said it was tragic and added: "The only saving grace is the other kids got out and it wasn't a multiple tragedy as it could have been."
She said it was distressing to see the frantic mums and dads who rushed to the quarry late last night.
She said: "Parents didn't know where their kids were and they were running around the quarry looking for them.
"The response from the emergency services was incredible. I have never seen so many fire engines, ambulances and police cars in my life, but ultimately it was too late."
Since Mr Lancaster's death last August Mr McGarry said police had conducted regular patrols of the quarry but fences put up to prevent access were repeatedly pulled down.
She said urgent action was needed to prevent another fatality at the privately-owned quarry.
She said: "Two deaths in less than a year is something you can't dismiss. The quarry is treacherous."For more, see Saturday's Courier.