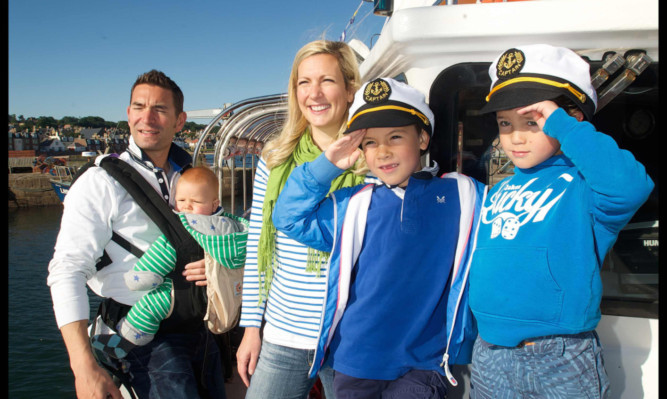 It was anchors aweigh in Anstruther as a new cross-Forth ferry link set sail.
The maiden voyage linking the East Neuk and North Berwick took place on Friday, packed with tourists and day trippers.
The new service has been launched with high hopes that the tourist industry on both sides of the estuary will benefit.
Councillor Lesley Laird, deputy leader of Fife Council, said: "This is an exciting new venture and a great boost for tourism businesses.
"With such exceptional attractions along both coasts, we will always welcome positive links across the Forth for both tourists and locals.
"I am sure this will prove to be a popular and well-used connection."
The new excursion has roots in a long and rich history, with boat trips between North Berwick and Fife dating back to at least 950AD.
The "Pilgrims' Ferry" transported religious worshippers across the Forth to visit the relics of Scotland's patron saint at St Andrews.
At its height, some 10,000 pilgrims made the crossing every year.
Now the journey on offer is quite a different experience with passengers able to travel on the custom-built, 55-seat, Seafari Explorer which was launched by Seafari Adventures and the Scottish Seabird Centre in March 2013.
To mark yesterday's first sailing, arrivals in North Berwick were welcomed back to land by a piper following the 45-minute crossing.
The new service has been backed by local transport partnership SEStran, which believes that the new route will benefit the tourist industries in both Fife and Lothian.
Councillor Russell Imrie, chairman of the group, said: "SEStran believes that the Forth Estuary should be a highway, not a barrier, which is why we have worked with Seafari Adventures and the Seabird Centre to establish the new ferry service, which will enhance access across the estuary and give improved access between destinations in Fife and East Lothian.
"We are proud to be involved on a project that both reinstates historical links and establishes a new and improved service for local residents and visitors alike."