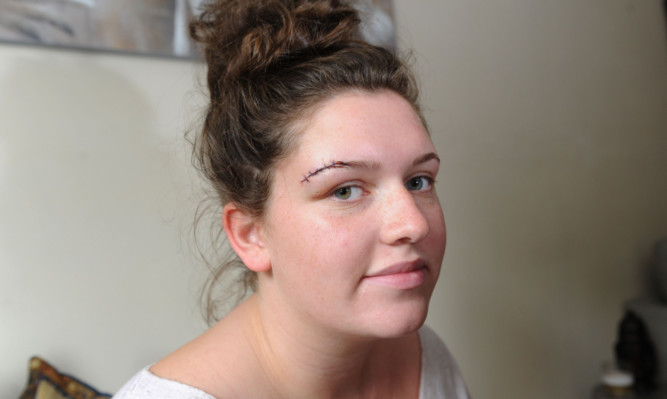 Shocked families saw a bleeding teenage girl lifted from a Dundee swimming pool after she was knocked unconscious in a freak flume accident.
Carlie Donaldson, 19, sustained a deep cut on her head and concussion when she went down one of the Olympia water slides with her boyfriend.
The Kirkcaldy student believed a sign at the top showing two people meant it was safe for her and Kurt Simpson, 22, to go down together.
As she has a hip problem, she wanted Kurt to hold onto to her to stop her hurting herself.
But instead she ended up with a cut gushing with blood, which required five stitches at Ninewells Hospital.
Leisure and Culture Dundee, which runs the swimming pool along with Dundee City Council, insisted that the sign on the green flume indicates an adult and child can slide together, not two adults.
There was a lifeguard at the top but Carlie said they were not warned against going down in tandem.
She said: "The sign had two people in a circle and I have a hip problem so I thought it would be safer if we went together and my boyfriend could then hold me.
"Either he let go or I let go and I shot off in front.
"He said I went up one side then the other and then I went right round and fell down.
"The last thing I remember seeing was black.
"I was unconscious until I hit the water at the bottom.
"I can't remember getting out of the pool but Kurt said he had to carry me.
"He and my mum said this should never have happened."
Carlie was taken to a first aid room but instead of seeking medical help for her, staff simply gave the couple directions to drive to Ninewells.
Since the incident on Wednesday, Carlie says she has suffered severe headaches and dizziness.
She has had to take strong medication to stave off the pain.
Doctors also advised her against driving until she fully recovers.
It was on the same flume two years ago that a woman suffered a broken bone in her foot after being smashed from side to side.
Michelle Seath, 26, of Inverkeithing, went down the slide with her friend's daughter.
A spokesman for Leisure and Culture Dundee said it would be inappropriate to discuss an individual matter.
However, he said: "Facilities at the Olympia, including the flumes, meet strict health and safety standards and undergo daily inspections.
"There is clear signage on the flumes showing what is and is not allowed.
"If any customer would like to contact us directly, we would be happy to discuss any issues arising with them personally."