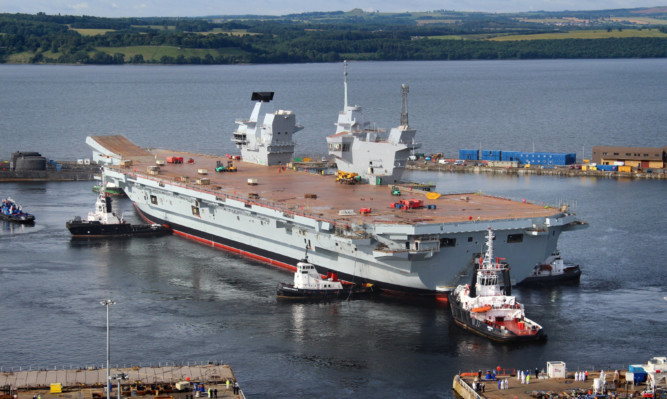 Aircraft carriers being built in Fife as part of a £6.2 billion project will not be able to dock at a £10 million naval base in Bahrain as it is too shallow, it has emerged.
SNP MP Douglas Chapman has called for clarity from the UK Government after the Ministry of Defence (MoD) has admitted water in Bahrain is not deep enough for the new Queen Elizabeth Class aircraft carriers.
The Dunfermline and West Fife representative, whose constituency includes the Rosyth dockyard, wants ministers to outline the potential impact the news could have on security and the future role of the controversial base.
In a written answer in parliament, armed forces minister Penny Mordaunt said: "The Queen Elizabeth Class (QEC) carriers will be able to utilise the Mina Salman support facilities whilst at anchor in the vicinity of the port in Bahrain.
"However, due to draught constraints, QEC carriers will not be able to berth directly alongside the Mina Salman support facility itself."
The MoD invested £10 million in the Mina Salman support facility in Bahrain after the Royal Navy was told it could no longer use US docking facilities in the port.
The new facility will have a running cost of £12 million a year from 2017/18.
Mr Chapman said: "If the new aircraft carriers can't deploy in Bahrain in a safe manner, it's a real embarrassment for the MoD.
"As a member of the defence select committee, I've heard evidence that indicates Royal Navy ships, including the carriers, could be deployed in the Gulf on a more regular basis as the US Navy changes focus or 'pivots' to Asia.
"Security is paramount in such a volatile region, and the size and importance of the carriers mean they will undoubtedly have a role to play.
"This is an area of high tension and there have been terrorist attacks on the US Navy in the Gulf.
"I want assurances from the Government that they will ensure that the carriers have a clear role and are able to dock safely in Bahrain."
Mr Chapman added: "This also throws into the spotlight the UK Government's relationship with Bahrain, who are financing the construction of this facility at a time when human rights groups have called into question the Bahraini regime.
"That the MoD has been unable to ensure that such a controversial project would fulfil the needs of the Royal Navy only compounds this embarrassment."
The new aircraft carriers being built in Fife HMS Queen Elizabeth and HMS Prince Of Wales are to be the focal point of the Royal Navy once they are commissioned in 2017 and 2020.
Construction was nearly cancelled in 2010, but they were saved because the contract with BAE Systems meant it was cheaper to build them.