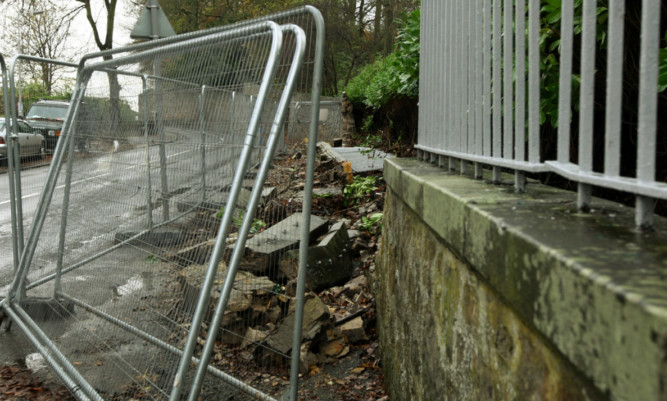 The beleaguered Dunfermline flood prevention scheme may have to be overhauled after failing at one of the winter's first downpours.
It is the latest sorry twist in the long saga which has frustrated Dunfermline residents.
Two sports cars were crushed by a massive wall which collapsed due to the build-up of water after a day of torrential rain because of a blocked rubbish screen at the Tower Burn in Pittencrieff Park.
Because of the failure, Fife Council's executive committee will meet today to discuss last month's flooding.
The report was called for after committee members expressed concerns about the effectiveness of the flood prevention scheme which ran years over schedule and millions of pounds over budget.
In 2003 it was originally heralded as a two-year £3.75 million project which would alleviate the flooding problems in the south of the town.
Instead it trundled on as costs soared to an eye watering £34.5m by the time it was over.
Now Fife Council's head of assets, transportation and environment, Ken Gourlay, said: "We're disappointed and very frustrated by the flash flooding event at Pittencrieff Park but we're looking at additional measures which should address such extreme circumstances in the future."
Following high winds and heavy rain overnight on Saturday November 14 the screen at Pittencrieff Park became blocked with debris.
This resulted in water flooding out into Lovers Loan and the surrounding area.
Mr Gourlay added: "In addition to the planned weekly check, once we received the severe weather warning, we again checked and cleared the culvert trash screen at the bottom of the park on Saturday.
"Unfortunately, the exceptionally heavy rain carried such an immense volume of debris down the burn from the park that it choked the trash screen resulting in flooding and part of the wall collapsing on to Lovers Loan.
"The flooding didn't affect any properties, but two cars parked on the footpath were damaged."
"As Britain's weather becomes more extreme with flash flooding and heavy downpours, issues like this become a problem," said Mr Gourlay.
"In this instance the flooding was caused by the blocked trash screen."