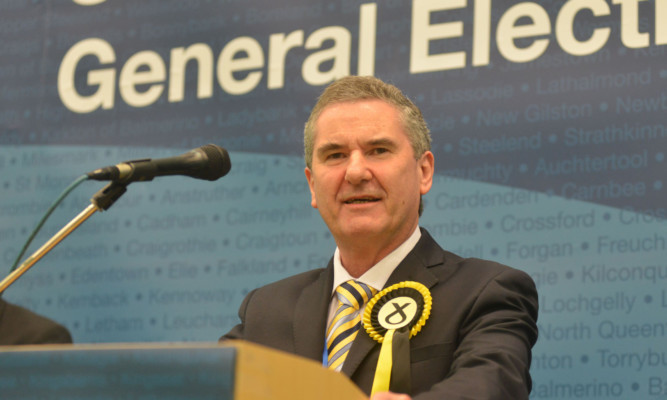 Labour's 80-year-long control of Kirkcaldy came to an end as the SNP's Roger Mullin was elected MP in the Kirkcaldy and Cowdenbeath election.
Overturning a Labour majority of 23,000 to secure his own majority of 9974, Mr Mullin paid tribute to outgoing retired MP and former prime minister Gordon Brown who he described as a "giant on the stage of British politics".
He said: "I would also like to say to the people of this constituency, one of the remarkable things that happened today was this had the highest turnout of any general election in this seat.
"That's a huge tribute to everyone connected with this seat."
Despite praising Mr Brown, Mr Mullin believes Labour's downfall in the constituency may have been because it appeared the former prime minister was actually Labour's candidate.
Mr Mullin, celebrating a 35% swing, put his victory down to an "exemplary" national campaign.
"We out-campaigned everyone else. We knocked on the doors of 20,000 people," he told The Courier."At the end of the day politics is personal. We have to sacrifice some of the razzamataz to talk to as many people as possible.
"We were aided by the mistake of keeping the (Labour) candidate (Kenny Selbie) away from the front line. It was as if the actual candidate was Gordon Brown. He was the lead speaker in every single one of the Labour party meetings. Not the actual candidate."
Mr Selbie, who finished second after hoping to replace Mr Brown, congratulated Mr Mullin and wished him well.
He thanked his team, his election agent and his wife Michelle who had been an "absolute rock".
He said Labour remained the "party of social justice" and put the outcome down to an "unprecedented election" not just in Fife but nationwide.
Result:
Dave Dempsey (Conservative) 5223
Callum David Leslie (Liberal Democrat) 1150
Roger Mullin (SNP) 27628
Jack Neil (UKIP) 1237
Kenny Selbie (Labour) 17654
Majority for Roger Mullin – 9974
Electorate 75941. Turnout 69.73%