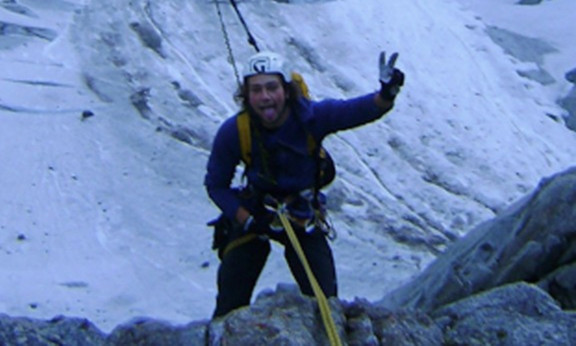 A Fife climber attacked by a grizzly bear in Canada says he gave it "a few left jabs to the jaw" to escape with his life.
Greg Boswell's website says he is "always looking for the next adventure", but he didn't have to search too far this week as his latest escapade unfolded before his eyes.
The experienced mountaineer from Cupar was in the Rocky Mountains with friend Nick Bullock near the ski resort of Banff when a giant bear pounced in the darkness, inflicting serious injuries to Mr Boswell's legs.
Incredibly, the 24-year-old managed to break free of the bear's clutches thanks to "a few left jabs to the jaw" and they scaled back down the mountain and drove two hours to the nearest hospital for treatment.
Mr Boswell took to social media to say he was a little "shook up and sore" after his ordeal and is understood to be recuperating before he returns to Scotland later this month.Back home, friends and family have been left shell-shocked at just how close they came to losing their loved one.
His mum Tina said: "He's a very lucky boy.There's been a lot of comments on Facebook, mainly from Canadians, and they've said it: 'Nobody survives this'.'It's incredible he survived' Parents' relief after climber's grizzly ordeal"I'm very stoical about it he's been climbing for a long time, he's very good at what he does and he would never put himself in a situation where there was a lot of risk, but this is something you can't really control.
"He told me he saw the bear out of the corner of his eye and it had seen him fall, so I'm very grateful that he's alive.
"I think it might hit him when he gets home, but he's been keeping his head down since it happened.We just can't wait to get him home."
Mr Boswell posted on Facebook and said he owes his life to Mr Bullock.
"I was in shock after the incident and didn't know what to do," he said."Nick got me out of there and drove me to the hospital.
"It wasn't a one-man mission to stay alive it was a friend doing as much as he could in a crazy situation to keep his friend from dying.
"I probably would have died of hypothermia or blood loss if he hadn't kept me going.My stupid idea was to climb a tree and wait until daylight.
"Twelve hours in -20C and with some serious bleeding to my lower leg is not the best way to spend the night.
"I can't thank Nick enough, even though I know I don't have to."
Mr Bullock has since blogged about the experience and was undoubtedly relieved to get his friend to hospital.
"The friendly nurse asked me if I wanted a drink, but there was no wine on offer so I had ginger beer," he said.
"Greg couldn't drink anything as the five huge holes in his shin, which now resembled a thigh, might need surgery, but I told him the ginger beer tasted good.
"I don't quite know how my Canadian trips went from coffee shop afternoons to middle of the night ginger beer, but I can honestly say I prefer coffee."