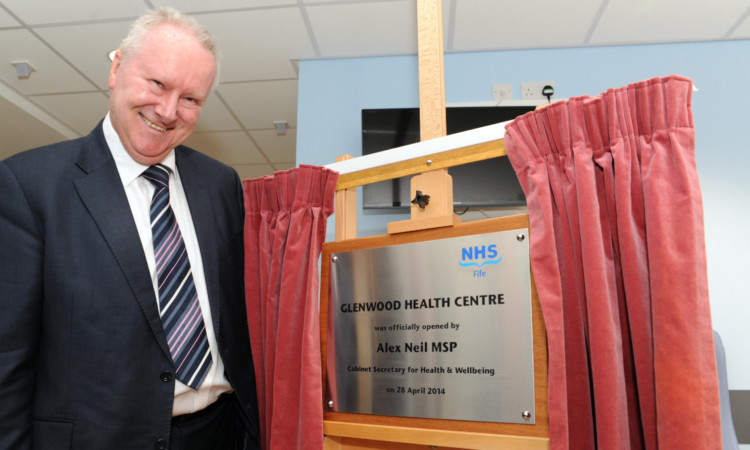 Scottish Health Secretary Alex Neil has officially opened the long-awaited Glenwood Health Centre in Glenrothes.
The £5.8 million purpose-built centre will house the Glenwood and Lomond GP surgeries as well as a range of community services including health visiting, dietetics, podiatry, physiotherapy and district nursing.
Andrew Rodger, chairman of Glenrothes and North East Fife Community Health Partnership, said the venue provided an enhanced working environment for the GP surgeries and community services to deliver a better patient experience for the population they serve.
Mr Neil, who unveiled a plaque and was given a tour of the centre, said: "This wonderful new facility allows local staff and practitioners to provide care in a state-of-the-art environment with bigger, lighter and brighter spaces that will enhance their patients' experience of both GP and community services.
"High quality health services as close to home as possible is what the people of Scotland want, and that is something this Government is determined to give them," he said.
"I am delighted this development is now open to the local communities in Glenrothes and I would thank everyone involved in making this happen."
The town's MSP Tricia Marwick was last year given the honour of cutting the first sod on the campus after years of campaigning for improved healthcare facilities in the area.
At the centre she said: "I am delighted to be attending the opening of the new Glenwood Health Centre today. I have campaigned for a new health centre since I was elected.
"I am pleased that the people of the West of Glenrothes now finally have the quality health facilities that they deserve," she said.
The previous Glenwood Health Centre in Napier Road dated back to the '60s and was condemned in a report published in 2001.
Work on the new two-storey building got under way five years after plans to replace the old centre became public.
Construction work started after the Scottish Government released funding to allow it to proceed.
Photo by David Wardle