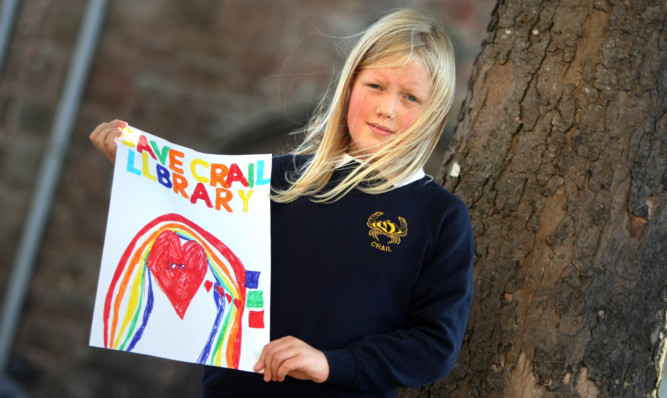 Schoolchildren have written to Nicola Sturgeon pleading for their local library to be saved.
Crail Library is one of 16 libraries facing the axe in Fife to save money, but youngsters at the local school have joined a fight to save it.
Pupils from Crail Primary School wrote letters for the First Minister and Fife Council, telling them how much they enjoy class visits to the library and the summer reading challenge, and voicing concerns for elderly people who rely on the service.
They also drew posters to support the campaign being waged in the East Neuk village by the local community council against the proposed closure.
Community councillor Eileen Wood said: "We hope having the children involved in this campaign helps to highlight the affect the loss of our library would have upon the children and the school as well as the wider community."
Fife Cultural Trust, which manages and operates libraries on behalf of the council, hopes to save around £813,000 by shutting branches.
The trust said closing Crail Library would save £9,573 a year, but the community council said its own analysis of the figures showed a more realistic annual saving of only £1,565.
Eileen said: "The savings are minimal compared to the detriment to our community and we want to work with the cultural trust and seek ways to make this viable for the future.
"We have lost our RBS bank and have had serious problems with the ATM being out of service most of the time since, causing all sorts of problems for visitors, locals and businesses.
"In August we also lost our Post Office. To lose our library is a step too far for our community."
More than 600 signatures have been collected on a petition against the proposed closure and a poster campaign has been launched to encourage people to join and use the branch.
A document is being prepared by the community council setting out the arguments for retaining the library.
Consultation on the proposed closures has been extended and a decision on the libraries' fate was postponed from the end of September to December 8.