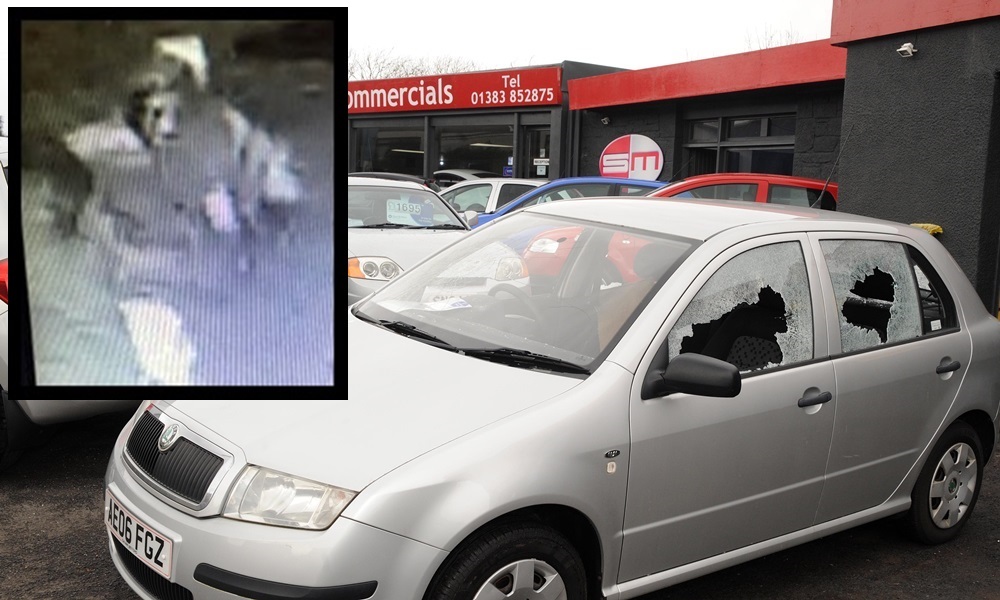 A Fife man caused £2,400 of "wanton" damage during a vandalism spree at a car showroom.
David Lorimer targeted Saline Motors on Comrie Main Street three times, smashing car windscreens and shattering the showroom window with a weight hidden inside a sock.
On one occasion, the 31-year-old left a handwritten note on the back window of a damaged car which read: "F*** you".
Yet Dunfermline Sheriff Court was told that Lorimer did not have a grudge against the garage's owners, who eventually posted a picture of the suspect on Facebook in a bid to catch him.
Lorimer, of Lindsays Wynd, Oakley, admitted wilful and reckless damage to a car at the showroom on February 15 and 16 by smashing the windscreens, windows and lights.
He admitted damaging another car by throwing an object through the rear windscreen on March 1, and two days later he smashed windows on a third car as well as the showroom window.
He also pleaded guilty to punching and smashing two internal doors at his home.
Defence solicitor Ralph McCran said unemployed Lorimer, who lives with his mother and sister, had seen Saline Motors as "an easy target".
"With regards to the locus, it is not a case that he has any form of grudge or anything like that," he said.
"His explanation for this course of conduct was that he was not coping in the house and went out to let off steam."
Mr McCran said the showroom was targeted simply because it was in the next village to Oakley.
"He saw these premises as not being in his own village and so not being on his own doorstep," he said.
"He also saw it as an easy target, a large car dealership with cars sitting outside overnight."
The solicitor added that his client used legal highs and sometimes amphetamines.
He asked the sheriff to call for further reports to address Lorimer's fitness to carry out unpaid work and his ability to pay compensation.
Sheriff Vaughan told Lorimer: "This wanton damage is just outrageous and inexcusable. "
However, he agreed to call for the new reports and sentencing was deferred to July 13.