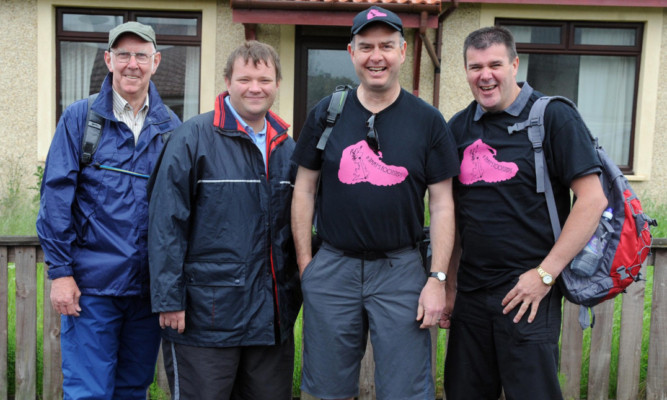 A borders walker, whose six-year-old granddaughter has cancer, has set off from Fife on an incredible journey first completed by his grandfather 80 years ago.
Alistair McIntyre began the walk at the site of the Mary Colliery, Lochore, where his grandfather Jimmy once worked.
His aim is to walk 500 miles in the footsteps of his grandfather Jimmy to raise money for Cancer Research UK, a charity that is close to his heart.
The 54-year-old was inspired to set up his In Jimmy's Footsteps appeal after his granddaughter Belle McIntyre Jimmy's great- great-granddaughter was diagnosed with neuroblastoma in 2011.
Alistair said: "The inspiration for this challenge comes from the shared courage and determination that Belle and Jimmy have shown. So many people have lives touched by cancer and continued research is the only way to head off this terrible disease."
In 1933, miner Jimmy McIntyre set off on the challenge of a lifetime when he was forced to leave his pregnant wife, young son and his home in Fife to look for work in Kent, a 500-mile journey he did on foot and by bicycle.
Joined by two of his brothers and three of his friends, Jimmy first walked to Newcastle where they "borrowed" a bike. With little more than the clothes they stood up in, this intrepid band of workers then walked or cycled the remaining length of the country ending up in Deal, Kent.
In London, Jimmy left the bike at a police station with a note requesting that it be returned to its rightful owners in Newcastle. The walk from Fife to Deal will take Alistair four weeks.
Along the way, Alistair will stop off in Edinburgh, Peebles, Galashiels and Kelso before crossing the border near Wooler.
He does not plan to be lonely on the long trek south as Alistair hopes people will celebrate their own loved ones who have had cancer by joining him on sections of the walk.
Alistair plans to arrive in Deal, where he will be welcomed by Belle and her family, on July 20.
Since being diagnosed with neuroblastoma a cancer of the nerve cells Belle McIntyre has been undergoing treatment at the Royal Marsden Hospital in Sutton as part of a clinical trial. Around 90 children are diagnosed with the disease each year in Britain.
Belle, who lives in Canterbury, Kent, has been treated with chemotherapy, radiotherapy, surgery and a stem cell transplant.
Alistair added: "Belle's fight goes on, her courage is an inspiration and she will be in my thoughts every step of the way."
So far, the In Jimmy's Footsteps appeal has raised £20,000 for Cancer Research UK by holding dinners, cake sales, golf days and even a bungee jump.
Donna Marshall, Cancer Research UK's volunteer manager in the Borders, said: "We are so grateful to Alistair and his family for establishing such an inspiring fundraising drive and I want to thank everyone who has supported them so far."
To find out more about the In Jimmy's Footsteps Appeal and find out where Alistair' journey will take him, visit: www.jimmysfootsteps.co.uk
Photo by David Wardle.