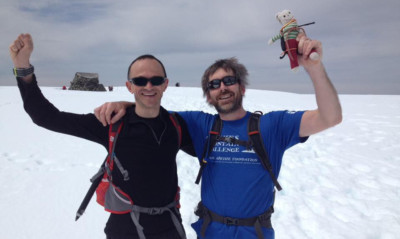 Hopes are high that athletes doing the ARCHIE's Mountain Challenge will complete the epic mission this weekend.
Having scaled Ben Nevis on Thursday, where snow was 30ft deep in places, the team ran down and went skinny dipping in the River Nevis.
"It was bracing but very refreshing," said Paul Fettes, the man behind the challenge.
Yesterday, the team kayaked down Loch Etive, the plan being to climb all the peaks in Glencoe, Ben Starav, Ben Cruachan, the Orchy hills and ending up in Glen Lyon.
Despite a 5am start, spirits are still high, although some of the team are understandably feeling pretty tired.
Paul said: "After my accident a few weeks ago (he was found unconscious having fallen off his bike and suffered facial fractures and a cracked hip), I still need lots of sleep. People have been dipping in and out of the challenge but there are a few who've gone through the night. Everyone is pretty hyped."
The hope is that the team's path will coincide with people doing today's fundraising community walk up Schiehallion in Perthshire.
"We reckon we'll go all Saturday night and finish up on Sunday late afternoon or early evening with Beinn Ime, the Rest and Be Thankful and finally, a toe dip at Arrochar."
Good luck folks!
ARCHIE'S Mountain Challenge is raising funds for Tayside Children's Hospital's twin operating theatres. To make a donation and follow the team's progress, see www.archiesmountainchallenge.org.uk