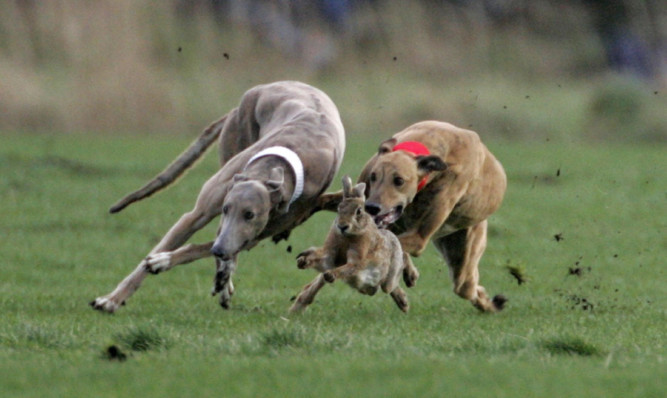 Brutal, banned bloodsports have made a return to Tayside, with reports of hare coursing at Longforgan.
Local police officer PC Mark Stewart issued a stark warning after signs were found that the vicious sport had taken place around Longforgan at 10pm on June 3.
A van containing three dogs was seen on a farm in Invergowrie and police are appealing for witnesses.
Councillor for the Carse of Gowrie Douglas Pover condemned the practice. "I know from my previous police experience that these sort of cruel bloodsports do still occur," he said.
"Not only do they cause undue suffering to the animals, they can be deeply alarming for any members of the public who watch them, especially children.
"If anyone is concerned they might be going on, I would advise them to contact police; very often hare coursing involves vans with dogs in them and the number plates of those vans would be helpful to police, too."
The shocking sport involves training whippets and other sighthounds by getting them to chase, mutilate and, ultimately, kill hares.
Banned since 2002, the sport is considered one of the most serious wildlife crimes and has previously been the subject of a crackdown by Tayside police.
In 2013 Operation Lepus was the police's attempt to crack down on hare coursing in Perthshire and Angus, areas particularly rich in hares.
Groups travel from all over the country to the area's farmland to send their greyhound and lurcher-type dogs hunting for a kill.
Operation Lepus has proved hugely successful in the past, with the first full year of the operation leading to unheard-of detection rates.
Bets are taken and any hares caught are torn apart before those responsible disappear, with the whole practice often lasting no more than 10 minutes.
Police wildlife and environmental crime officer Alan Stewart said: "Our message to those who are determined to ignore the law and chase hares with dogs is that police officers will use all powers at their disposal to tackle this illegal practice.
"They should be aware that we can take action even if a hare has not been caught or even seen to be chased by dogs.
"The very fact that they are out searching for hares to course is sufficient evidence to prosecute. They are likely to be arrested and can expect a court appearance."
Anyone who is detected hare coursing can face a fine of £10,000 and six months' imprisonment.