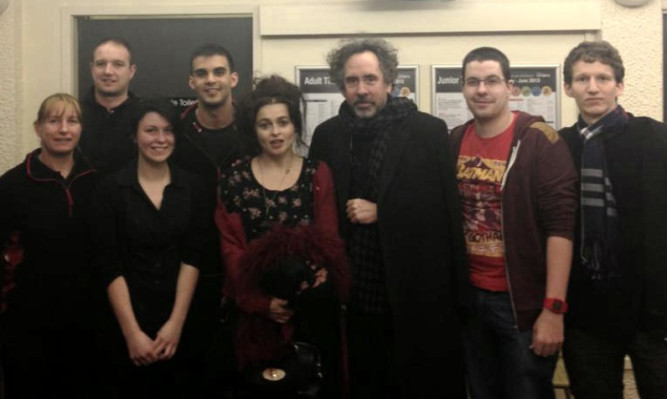 WHEN YOU are a Hollywood A-lister the only way to spend Hogmanay is playing five-a-side football in Forfar, or so it would seem.
Corpse Bride director Tim Burton and his partner, actress Helena Bonham Carter, have always had a taste for the surreal, but a New Year's Eve trip for a kick-about at Lochside Leisure Centre will take some beating.
Staff were amazed to see the pair turn up for an afternoon match after a session was booked in by Airlie Estate just outside the town by David Ogilvy, the 13th Earl of Airlie.
Harry Potter star Ms Bonham Carter (46) wore a black dress, red cardigan and heavy boots for the match, which apparently finished 0-0, while her husband sported a long dark coat.
Flabbergasted centre users took to Facebook and Twitter following the strange encounter.
Chris Gall said he seized the opportunity to get his Batman T-shirt signed by the 54-year-old director, who was behind the first movie in the series staring Michael Keaton in 1989.
He posted: "(Mr Burton was) Spending New Year at Airlie Castle and was in playing 5s. #awesome."
It is understood the famous pair spent New Year with Mr Ogilvy on the Airlie Estate, which includes Cortachy Castle and Airlie Castle, and has been held by the Ogilvy family for 700 years.
Ewan Smith tweeted: "They were playing 5s. HBC in a dress and boots. Was awesome. I met them so I know it's true."
Bruce Martin said: "What on earth are they doing in Forfar?! That is brilliant!!"
Helen Torrie, who works at the centre, confirmed the unusual slot had been requested in advance of them turning up.
She added: "The booking was under David Ogilvie (sic) from Airlie Castle, so I think they are just here to bring in the New Year."
Scott Baikie summed up everyone's thoughts, posting: "That's a surreal end to 2012!"
gbletcher@thecourier.co.uk
Main photo courtesy of the Angus Leisure Facebook page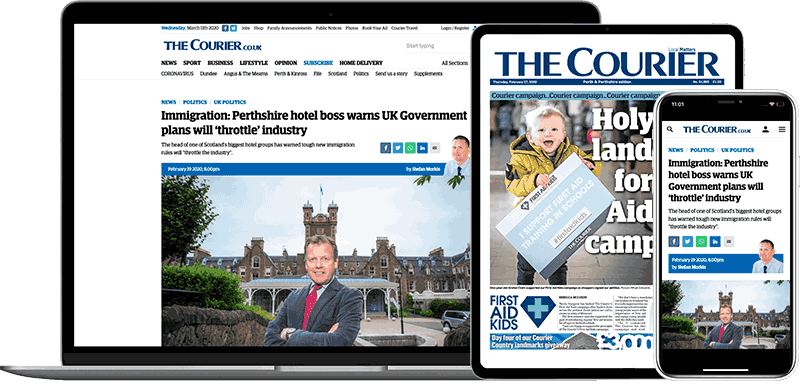 Help support quality local journalism … become a digital subscriber to The Courier
For as little as £5.99 a month you can access all of our content, including Premium articles.
Subscribe