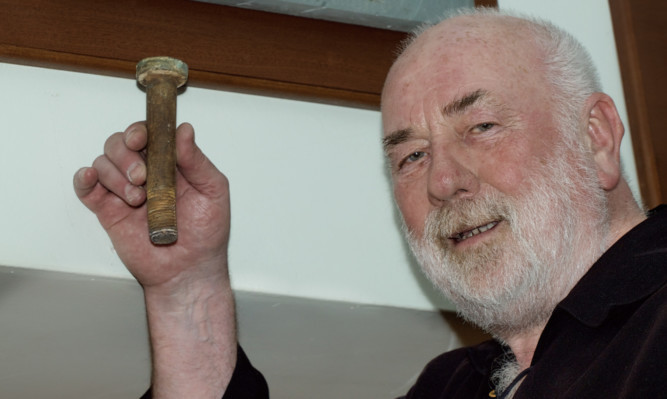 The first piece of the world-famous Victorian tea clipper Cutty Sark has returned home to Scotland after almost 150 years.
The Cutty Sark was built on the Clyde in 1869 for the Jock Willis Shipping Line, and was one of the last and fastest tea clippers to be built.
Designed at the desk of Mearns man Hercules Linton, the vessel plied the tea and wool trade around the world from 1870 to 1890, and now rests in the National Maritime Museum in Greenwich, London.
Museum curator Jessica Lewis was guest of honour in a program of events to honour Linton, in tandem with a Historic Scotland plaque being unveiled at his Inverbervie graveside.
And Ms Lewis has marked the occasion by handing across an original bolt from the clipper's hull the first piece of the ship to come back to Scotland since it was launched in Dumbarton.
Dave Ramsay, who organised the events and is project director of the Maggie Law Lifeboat Museum in Gourdon, said he was very surprised to have received the item.
He added: "It was a pleasure and a great privilege to hear Jessica Lewis weave together the Cutty Sark, Hercules Linton and Inverbervie connections, from her informed perspective of being the curator for the Cutty Sark at Greenwich.
"This was a huge surprise to me, to be gifted a tremendously authentic and important exhibit, as this is the only piece of Cutty Sark ever to return to Scotland since her launch at Dumbarton in 1869.
"It is a major success and responsibility for the museum to have such a prized exhibit."
The bolt will be displayed in the Maggie Law museum in its Cutty Sark gallery, linking the maritime heritage of the Mearns and Greenwich.
Festival guests were invited to a memorial Linton dinner, to which whisky distiller Edrington donated miniatures and a bottle of 33-year-old Cutty Sark.
This sold twice for an undisclosed sum.
Mr Ramsay added: "The support we received from Edrington was magnificent, and I was really grateful for their product support as it really brought the Cutty Sark connections alive."